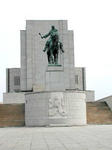 There are some useful tips for a look around the east side of Prague. Eaestern Prague is not as attractive as the historical centre of Prague, but it can still offer some interesting places. Zizkov is a very old quarter with plenty of typical pubs. If you want to see the real pub life of Prague, not the attractive tourist pubs in the centre, Zizkov is your best bet. For more information about pubs click on Pub Guide or to Beer page. But there is not only Zizkov in the east of Prague (modestly, Zizkov is quite a centre of Prague). Here we provide some tips for other tourist attractions of the east of Prague:
Letecke muzeum (Aviation Museum)
Letiste Praha-Kbely (airport) 03, Mladoboleslavska street, Praha 9.
Open seasonally, closed on Mondays and Fridays.
The History of Czech and Czechoslovak aviation, aeronautics and astronautics. At weekends heavy war technology, artillery and military vehicles are displayed at Letnany u Tynce nad Sazavou near Prague.
Zizkov TV Tower
Mahlerovy sady 1, Praha 3, Metro A Jiriho z Podebrad, tram 5, 9, 26 Olsanske Namesti; tel.: 02 / 627 34 97.
63 metres over Prague there is a pleasant restaurant with spectacular views not only over Prague, but over the middle of Bohemia as well.
Entrance costs 60,- KCZ, a family ticekt (two adults and two children) costs 120,- KCZ, tourist groups with reserved menu are free of charge.
Open daily 11a.m. - 11p.m.