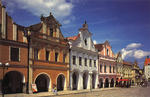 South-East Bohemia is located in the central part of the Bohemian-Moravian Highlands, one of the most scenic landscapes with the least spoilt environment in the Czech Republic.
Nearly 110, 000 inhabitants live on 1, 180 square kilometres of the Jihlava Region. It consists of 192 municipalities managed by 4 town and 117 municipal administrations. The region's administrative centre and the largest industrial town in the region is Jihlava. It covers more than 45 per cent of the region's area and its population density is far above the regional average.
The level of agriculture is determined to a certain extent by the geographic location of the Jihlava region. The natural conditions for agriculture are only average (when compared with other regions of South Moravia). The overall area of cultivable agricultural land is exploited rather intensively which the high proportion of arable land demonstrates. A major part of this land is used for growing cereals.
The most important industries in the region are engineering and metal processing which also provide employment to a large part of the region's workforce. Other important industries include textiles, clothing, wood and furniture. Some important food, glass and electric firms are also represented here.
Jihlava lies among wooded hills in the heart of the Bohemian - Moravian highlands. Despite the fact that the town lies in the poor area of Horacko, it is quite rich in its history and its artistic and architectural monuments. The present city still maintains its
original fortifications
. All in all it contains 213 protected after 1250. The Dominican Monastery is a little younger. It was built in the Gothic French style.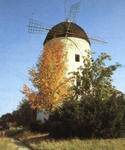 The church of St. Jacob was started before the year 1250.
The precious architecture of the city of Jihlava is mostly hidden from outside view and is located in its large square (3.6ha). There are all together 14 well-preserved houses from early Gothic time. There are other stone houses built in the proximity of the square. The catacombs, created by the joining of the cellars, are interesting examples of the Gothic building style. Rebuilt after several fires, Jihlava acquired a Renaissance look and its architecture was enriched by the so-called "Jihlava covered yard". Also the "upper halls" and the "lower halls" of the courtyards are historical jewels worthy to behold. Architectural and urban developments of the city were interrupted during the Baroque era which added a new veneer to most exteriors including
the complex of Jesuit Colleges
built between 1680 and 1727. Besides witnessing the architectural heritage, it is also possible to visit Museum of the Highlands, the Regional Highlands Gallery, the catacombs and the modern zoo.