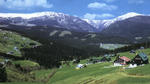 North Bohemia region is
famous for its fascinating nature
. Around Elbe (Labe) River you can find on a lot of places sandstone rock and other bizarre formations. It is a paradise for climbers. In the north part of the region are located mountains:
Krkonose Mountains
- the highest mountain range in Czech Republic, and
Krusne Hory Mountains
. Krkonose are suitable for downhill skiing and ski jumping. Krkonose are more suitable for cross-country skiing. Both are very beautiful mountains where you can hike and ride mountain bike in the summer. On a lot of places you can find romantic old castles or their ruins. The cities in this region reveal the great German influence in the past. In every city you can find typical German architecture.
Liberec is a leading city of the Liberec region located in the North of Bohemia near the German-Poland border. Given the number of inhabitants Liberec is the sixth largest city in the Czech Republic. The Liberec region (encompassing districts of Liberec, Ceska Lipa, Jablonec nad Nisou, Semily) by its area represents 4 % of the total area of the Czech Republic. The Liberec region is a part of so-called Euroregion NISA that unites the districts of the Liberec region, districts of the Silesian part of Poland and the Saxon districts of Germany.
The district of Liberec belongs to the northernmost districts of the Czech Republic. By its area it is the second largest district in the Liberec region, as concerns the number of people it is the biggest district in the Liberec region. The district of Liberec consists of 7 microdistricts with accredited authorities in Liberec, Frydlant v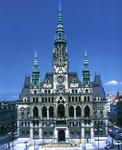 Cechach, Nove Mesto pod Smrkem, Hradek nad Nisou, Chrastava, Cesky Dub and Hodkovice nad Mohelkou. The city of Liberec is situated in an attractive natural environment surrounded by greenery of the
Jizera Mountains
and the Luzicke Mountains. The dominating feature of Liberec is the mountain Jested (1,012 m) with a cableway and a mountain hotel that serves as a transmitter facility as well. Liberec is an important centre of industry, trading and education with an extensive historical tradition in the region. The natural protected area of Jizera Mountains and Jested Ridge offer a wide range of opportunities for summer and winter sport activities.
There are downhill courses, ski lifts and ski jumps on the slopes of Jested, the Jizera Mountains offer ideal conditions for cross-country skiing and tourism. This
attractive natural environment with improving ecological quality and cultural values
of the country creates good conditions for leisure, recreational and curative activities. Other sport facilities are offered by a 100 metre-long slide located in the local indoor swimming pool, football and winter sports stadium, the Liberec dam and many other sports grounds including a new golf course behind the mountain Jested.