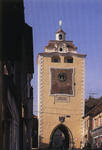 The middle part of the Bohemian basin is influenced by the capital Prague that is dominating here.
Numerous historical monuments testify to the old and rich history. Precious historical buildings, as
imposing Gothic or Baroque churches
and old noble houses, can be seen almost in all towns, especially in
Kutna Hora
. History and pre-history have left innumerable traces in the district of Central Bohemia. According to an old Czech legend, the history of the Czech nation joined with the arrival of the forefather Cech should have begun in this region on the mountain Rip. Also the beginnings of the own Czech state from 9
th
and 10
th
century could be traced here. The central location of this region in the heart of Europe and its relations to the other countries of the European continent formed its face. Since pre-historical period, Central Bohemia was the main intersection of important commercial trails that influenced the settlement and development of the whole region. It was necessary to construct fortification systems there to protect the commercial trails - and so many strongholds and fortified towns were built. It is worth to mention that in the Central Bohemia have remained approx.
400 strongholds, citadels and castles
, which once used to be the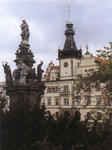 residences of the Czech kings and noble families.
The landmark of the romantic scenery around the zigzagging river Berounka is
the majestic Karlstejn Castle
, once the place where the crown jewels were deposited. Krivoklat, which the Prague-based Princes built back in the 12
th
century father down-stream, admits thick forests, became a favourite place of rest of the kings of Bohemia. The president of the Czechoslovak and, later, the Czech Republic, on the other hand, have preferred to relax at
the Lany Chateau
, at the edge of the Krivoklat forest.
Travelling in the opposite direction, towards the river Sazava, where the Cesky Sternberk Castle has been a magnet attracting tourists thanks to its unique collection of engravings from the dramatic times of the Thirty Years' War, the romantic neo-Gothic chateau of Pruhonice stands just outside Prague, surrounded by a beautiful park with many rare trees and shrubs. Near Benesov is situated
Konopiste Chateau
, the summer residence of the Archduke Ferdinand d'Este.
Travelling to the north, before one arrives in the historic town of Melnik surrounded by
the Lobkowicz vineyards
on the slopes overlooking
the confluence of the Vltava and Elbe rivers
, the Nelahozeves Chateau with an interesting portrait gallery.
The nature here offers everything what one needs for rest and recreation: romantic forests, wide valleys, ponds and dam lakes, spas, sport opportunities as horse riding, tennis, walking tours, bike excursion, water sports, fishing, hunting, golf etc.