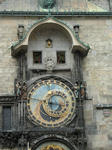 Prague, the capital city of the Czech Republic, which has become a popular tourist destination in recent years, was built at
an important crossroads of trade routes
that met there as early as the 9
th
century.
Six hundred years of architecture, unharmed by war or nature, make Prague one of the most aesthetically pleasing cities in Europe. Disappearing behind the Iron Curtain for most of the latter part of the twentieth century, Prague re-emerged after the Velvet Revolution of 1989 and is today, one of Europe's most visited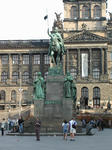 attractions. The city is compact and easy to navigate, from the Old Town Square where classical concerts and
traditional marionette theatre
shows are regularly held to the two citadels from which the modern-day city has grown.
Philosophers read
Kafka
in Bohemia whilst history enthusiasts feast upon castles and cathedrals, dating back to medieval times. In summer visitors can take advantage of
boat-rides
down the river, under the spectacularly adorned
Charles Bridge.
Prague developed in a variety of styles over a millennium before it acquired its current, unique appearance. As a result, we can now admire the capability, sensitivity and skill of its generations of ingenious master-builders, stonemasons and sculptors.