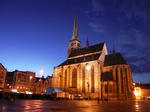 The district of Plzen has impressed many visitors to this part of West Bohemia with its beautiful countryside, deep forests, rivers, lakes and great wealth of cultural monuments. You will find just about all architectural styles from
simple peasant architecture
to rare technical monuments. You will find here all sorts of renovated historic buildings underlining the picturesque nature of West Bohemian villages and towns. Nature-lovers cannot help but be impressed by the unspoilt nature of the countryside, where they can admire centuries-old oaks and beeches, grand rock formations and the quiet beauty of water lilies decorating the
many lakes and ponds
. While Plzen is also a district of industry and agriculture, its lovely countryside makes it into one of rest and recreation.
One of the most typical feature of the
West Bohemia is the connection with near Germany
. The routes and important trade paths led through not only Germany but further to Italy. Often the battles between two different influences took place here. With this situation of instability were built defence and guard building's like Loket, Cheb and Primda. The outstanding medieval castle is Rabi, built at the hill - the largest one in the Czech Republic. The other important one is
water castle Svihov
built in the lowland. Baroque is the most significant style of West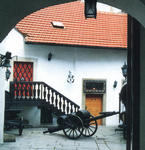 Bohemia but it is represented mostly by the church monasteries. The chateau of Nebilovy represents this typical architectonic style. From younger period there are small hunting and leisure chateaux as Kozel, Kynzvart and Luzany.
The metropolis of Western Bohemia is a free city proud of its history, and of its close ties to the traditions of western civilization.
The city is unique with its many historical landmarks. Among these is
the Cathedral of St. Bartholomew from the 13th century
(its architecture dominates the city with a 102.26 meter tower - the tallest in the Czech Republic), a renaissance town hall built by Italian architect Giovanni de Statio, a unique Brewery Museum, a historical underground with medieval cellars, a Franciscan Monastery, and a Church of St. Ann. All of these buildings are part of the original chessboard-like ground plan of the historical center, which, in 1989, was pronounced an Urban Historical Landmark.
In western Bohemia and its metropolis, tourists may find many interesting historical sights, enjoy a pleasant vacation, and gather many unforgettable impressions and experiences.