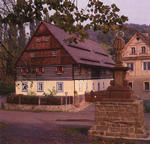 The North Bohemia has missed the self-integrated element of cultural tradition. It has always been in a close connection with Prague.
Many castles
were built in the 13
th
century on the scenic hills - like Bezdez. Due to its position the northern part of region was influenced by Saxon Renaissance, e.g. chateaux in Benesov nad Ploucnici, Krasne Brezno, and the tombstones in Frydlant - other Renaissance centre. There are no chateaux in style of Italic Renaissance so usual in other regions.
Situated in the heart of the North Bohemia Region, it is the smallest District with only 409 square kilometres in terms of area. Usti n. L. is the most densely populated. District in North Bohemia and the majority of the population lives in the city of Usti nad Labem, which was from 1949 to 1990 the Regional capital of North Bohemia due to its size and importance. There are no other major towns in the District of Usti nad Labem. The District is part of
the Brown Coal Basin
, although only a small part of its territory in the western section has an open cast
mine Chabarovice
.
The Labe Valley provides good river, road and rail links to Germany. Further development of the District will depend closely on developments of this important transportation corridor of trans-European dimensions.
The District's economic activity is based mainly on the industrial sector. Heavy and light industry is concentrated in the Usti nad Labe surrounding area. Farming has only a minor presence. The District is the centre for many regional services and small industries. These include building companies, engineering offices, retail trade and government services.
The industry in the area has a long tradition, with companies, which were established in the previous century. Oddly enough, in spite of the minor importance of agriculture, the biggest industry is in the food sector. Second come the chemical and the energy production industries. Some industrial enterprises with products such as sodium, car pistons, welding of coloured metals, etc., have monopolistic competition privileges due to their importance in the whole country. The district has an open-cast brown coal mine and an associated coal-processing plant, a glass works, and a heating plant. The huge chemical industry with five plants and the metal products with eight plants are also important, although they are known to have problems with the disappearance of the traditional markets and out-dated technology and equipment.
Tourist activities could develop along the Labe Valley and the
sand-stone cliffs
of the Krusne Hory region.