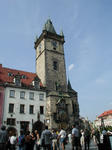 The central feature of the Old Town is the spacious
Old Town Square with a series of charming old houses
on the south and east sides. The north side is dominated by the massive
monument of the reformer Jan Hus
. The most important buildings on the square are
the Town Hall
with the astronomical clock (15
th
century) on the tower and
the Church of St. Nicholas
, an outstanding example of the 18
th
century Baroque. To be mentioned there are also
Goltz-Kinsky Palace, Gothic Tyn Church
and the house where famous writer Franz Kafka was born.
Not far from the Old Town Square stands in Baroque remodelled
St. James Church
with richly furnished interior and
the Estates Theatre
from 1738 - the scene of the world premiere of Mozart's "Don Giovanni". Facing the theatre is
the Carolinum
, historical building of the Charles University founded in 1348 with Baroque facade.
Worth seeing is also
the Powder Tower
built in the 15
th
century and restored in Neo-Gothic style. On the north side of the tower is
the Municipal House
, a good example of the Czech Art-Nouveau style.
The whole area of the Old Town offers many further interesting historical sights e.g. an extensive complex of Clementinum housing the National Library, Romanesque Chapel of Holy Rood, Gothic Bethlehem Chapel, etc.
Old Town Bridge Tower
Old Town Bridge Tower is actually the entrance gate from the Old Town to the Charles Bridge, designed by Petr Parler. One of the most beautiful Gothic towers in Europe. The tower contains copies of the enthroned figures of CharlesIV and Wenceslas IV. Over the archway is a row of carved emblems of territoriesbelonging to Charles's Empire.
Powder Tower

Prague 1, Na Prikope
A Gothic building from 1475 constructed by Matthias Rejsek, and once probably used to store gunpowder. Modified in 1875-86.
Open daily:
April-October: 10 a.m. - 6 p.m.
Closed in Winter.
Betlehem Chapel
Prague 1, Betlemske namesti
Originally a Gothic chapel dating from 1391. The famous religious reformer Jan Hus preached there. Completely damaged, the building was reconstructed in 1950-53 from old engravings and pictures.
Open daily:
April-October: 9 a.m. - 6 p.m.
November-March: 9 a.m. - 5 p.m.
The Old Town Hall with the Astronomical Clock (horologe)
The Town Hall was founded in 1338. In 1364 the tower was joined to the chapel, and in 1470 the Town Hall was refurbished in Gothic style. The clock dates from the beginning of the 15th century; on the hour, a procession of the Twelve Apostles appears the window in the upper part. In the lower part are 12 medallions with the signs of the zodiac, created by Josef Manes.

Opening hours:

| | | |
| --- | --- | --- |
| | April - October | November - March |
| Monday | 11:00 - 18:00 | 11:00 - 17:00 |
| Tuesday | 09:00 - 18:00 | 09:00 - 17:00 |
| Wednesday | 09:00 - 18:00 | 09:00 - 17:00 |
| Thursday | 09:00 - 18:00 | 09:00 - 17:00 |
| Friday | 09:00 - 18:00 | 09:00 - 17:00 |
| Saturday | 09:00 - 18:00 | 09:00 - 17:00 |
| Sunday | 09:00 - 18:00 | 09:00 - 17:00 |