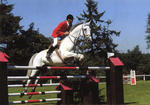 There is a very useful tip for horse racing fans! When visiting Prague don't miss its southern part, where many important horse racings take place!
Velka Chuchle Horse Racing Course
TURF IPS, Radotinska 69, Praha 5, Metro B Smichovske Nadrazi, then bus no. 172 stop Zavodiste Chuchle
tel.: 02 - 57 94 10 42
fax: 02 - 57 94 10 88
Bus: 129, 172, 241, 244 from Andel metro
Train: osobni from Smichovske nadrazi
The Sport of Kings has survived communism and seems to be on the up in the Czech Republic. The Velka Pardubicka is the main attraction, and is spearheading the campaign to put the country on the international racing map. The race organizers have close links with Doncaster racecourse in England, and are using this to promote the race in the British Isles. A developing taste for the high life, together with the Czech fondness for the odd flutter ensures a bright future for racing in this country.
2,180 meters long track, all kinds of races, biggest event - Czech Derby ( 2001). However the biggest horse-race is not in Prague but 100 km east in Pardubice. "Velka Pardubicka" (Pardubice's Big Steeplechase) a tradition since 1874, the 110th race will be run on 8th October 2001.
The total number of 276 horses from 105 breeders were on display in 280 stable boxes. Fifty-seven companies participated in the exhibiting part and the exhibition was seen by 17,000 visitors.
Jockey Club is the highest authority in Czech Republic. The Jockey Club leads and supports racing and breeding by licence from Ministry of Agriculture Czech Republic, valid racing rules, conception of breeding and will its members.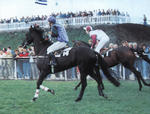 Jockey Club was accepted as right member to the International Federation of Turf Authorities, which has there over 60 countries in the world. Jockey Club is signatory International agreement of breeding and racing.
Prague's only track hosts racing on the flat for most of the year. Gallop races are held through the warmer months, with trots taking place during the colder parts of Spring and the Fall.
Most important races
Czech Derby, St. Leger, OAKS, 2000 Guineas, 1000 Guineas, Prague Stakes, Czech turf Stakes, President Stakes There is also main track of trotting in Prague
Admission:
Adults: 30,- KCZ
Children 10,- KCZ