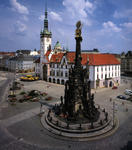 The intensive industrial and mining activity in North Moravia is confronted with effors for the preservation of the beauty of its hills and mountains, where people from the huge industrial centres like to hike and rest. The hill of Jeseniky are a popular tourist destination, with the Beskydy Mountain range is a true health resort for the people from the heavily polluted coal-mining region around Ostrava and Karvina.
Czech Silesia
, a small but industrially and
historically significant part of land
near the border with Poland, is what remains of a one-time large royal province, parts of which were lost in the Prusso-Austrian wars during the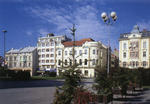 reign of Empres Maria Theresa. Opava, once the capital of the province, the seat of the prince, the local authorities and courts, is today the seat of one of the universities in this ethnically mixed region. In the 20
th
century, the industrialised Ostrava, the centre of the coal-mining district, became the capital of this region of Silesian miners, metalworkers and engineers. Hukvaldy near Frydek-Mistek is
the birthplace of Leos Janacek
, the world-famous composer of many operas and symphonies, to whom this region was a major source of inspiration.
The North Moravia has not got deeper historical roots. The attention of visitors is attracted by the Gothic castles like Sternberk, Hukvaldy, and Helfstyn. The complete collection of monuments is represented by the castles and chateaux of Gothic origin and rebuilt in Renaissance Tovacov (the oldest Renaissance monument in the Czech Lands) and Velke Losiny. Baroque, it is in the North Moravia mainly Namest, Usov a Kravare, Romantic and Empire architecture has its own place in Hradec nad Moravici and Neo-Gothic Bouzov.