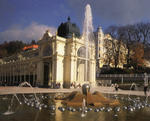 The Czech Republic is
full of attractive places
and all are worth seing. We hope that everyone can find lots of information about tourist attractions on our pages.
If you are interested in taking a spa vacation or just passing throught some of the spa towns, begin your explorations in Bohemia by bus or train west from Prague to Karlovy Vary or Marianske Lazne. Otherwise, proceed directly to southern Bohemia, stopping in such towns as Tabor, Ceske Budejovice and Cesky Krumlov. From here, consider a swing east into Moravia, centered around Brno. On the way we highly recommend a stop in Telc.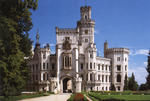 In Prague, there are five major parts of the city center of primary interest to tourists: Hradcany, the castle district atop a hill on the left bank of the Vltava River; Lessertown, the lower at the foot of Hradcany, also on the west bank of the Vltava River. The Old Town on the right bank of the river; Josefov, the old Jewish ghetto immedially north of the Old Town; and the New Town (at least it was new in the 14th century when it was built), located south and east of the Old Town. The magnificent Hradcany includes St. Vitus Cathedral dominating the skyline. St. Nicholas Church as well as hunreds of other architecturally important structures nearby grace the streets Lessertown. The Old Town is one of the largest and most beautiful in Europe, where you'll find Charles Bridge, Tyn Church and the Old Town Hall.