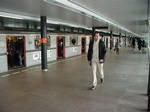 The major city-transport carrier in Prague is
Dopravni podnik hl. m. Prahy
, a.s. (The Capital City of Prague Transport Company), whose total annual transportation volume is more than one billion passengers. They are served by the system of underground, trams and buses.
Metro
The Prague Metro network consists of 3 lines designated by letters and differentiated in colour:green colour (Skalka station - Dejvicka station), yellow colour (Cerny most station - Zlicin station), red colour (Nadrazi Holesovice station - Haje station), with transfers possible at Museum station (lines A and C), Mustek station (lines A and B), Florenc station (lines B and C).
Metro operates daily from 5 a.m. to 12 a.m.. The time interval between train departures is approximately 2 minutes during the workday rush hours and 4 to 10 minutes during off-peak hours.
Trams
Daytime operation is from 4:30 a.m. to 12 a.m.. Nighttime operation is from 12 a.m. to 4:30 a.m. and is provided by tram numbers 51 to 58. The central transfer-station for nighttime lines is Lazarska stop. Tram schedules are located at individual stops.
Buses
The daytime and nighttime operation of buses is similar to tram operation. Nighttime service is provided by bus numbers 501 to 512. Bus schedules are located at individual stops.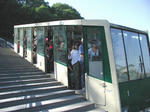 The Funicular
The Funicular onto Petrin Hill operates along the route Ujezd - Nebozizek - Petrin. The Funicular operates daily from 9:15 a.m. to 8:45 p.m. with traffic intervals from 10 to 15 minutes.
Prague City Transport Fares
Travelling by city transport is only possible with a valid ticket. Passengers have to obtain their tickets before boarding the vehicle or entering the Metro system. Tickets can be bought at selected Metro stations or in Dopravni podnik Information Centers, hotels, at news stands, travel bureaus, department stores, etc. Single tickets can also be bought from the slot machines located at Metro stations or near some stops of surface transport.
Fares
Transfer ticket 20,- KCZ
Concessions (children 6 to 15) 10,- KCZ
the ticket is valid for 60 minutes after marking. During off-peak hours, i.e. 8 p.m. to 5 a.m. on working days and all day Saturdays, Sundays, public holidays, ticket validity is lengthened to 90 minutes.
Nontransfer ticket 14,- KCZ
Concessions 7,- KCZ
In trams and buses a nontransfer ticket is valid for 15 minutes after marking and does not allow changing of lines. In the underground the nontransfer ticket is valid for 4 stations after marking (excluding the station where it was marked) and allows transfers between the underground lines. Time validity of the nontransfer ticket in the underground is limited to 30 minutes.
Nontransfer tickets are not valid on night trams and buses and for the Petrin Funicular.
Freight
luggage, dogs, prams without babies, bicycles in the underground 10,- KCZ
Tourist Tickets
for 24 hours 80,- KCZ
for 3 days (72 hours) 220,- KCZ
for 7 days (168 hours) 280,- KCZ
for 15 days (360 hours) 320,- KCZ
These tickets are valid for all the city transport facilities and allow transfers. On such a ticket, owner's name and the date of birth have to be filled in. The ticket is valid from the moment of its marking (multiple-day tickets are valid as of the day of marking).
Free-of-Charge Transport of Passengers and Objects
children up to 6 years of age
citizens of the Czech Republic and foreigners with residential permit over 70
disabled in a wheelchair, guide and dog
prams with babies
animals in protective boxes
1 pair of skis
bicycle (in Metro only)