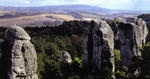 East Bohemia, extending from the Krkonose mountain range to the border with Moravia is perhaps the most Bohemian part of Bohemia, not because of the language spoken here or because of the
number of historic relics
. East Bohemia has been most consistent in perpetuating the essential principle of Bohemia's history, that is resistance against the uprooting of traditions and the introduction of new trends.
It is a region of old-fashioned village chroniclers and religious fanatics and, at the same time, a region where the Renaissance and particularly the Baroque blend most impressively with the Bohemian environment. The castle of Kost, overlooking the Plakanek valley, with the charming Bohemian Paradise as backdrop, belongs to East Bohemia, as does the town of Hradec Kralove, a town of the Bohemian kings' widows, or the
Baroque Kuks of Mathias Braun
whose sculptures rise as an alley not far from the Elbe river flowing towards Jaromer.
Likewise, Litomysl, the birthplace of Bedrich Smetana, Vamberk and the villages in the surrounding hills, famous for their fine lace, the folk Christmas cribs still carved by local people out of linden wood and assembled into moving Nativity scenes, are all part of East Bohemia. The heritage of the Hussite movement and the literary societies and choirs of the Czech Brethren from before the Battle of the White Mountain, wed here with artistic and musical traditions of Jesuit Catholic piousness and faith in the purifying power of beauty.
East Bohemia is a region of Bohemian national traditions, a region of legends and tales told by Bozena Nemcova, the sad fairy godmother of the 19
th
century Czech literature. It is a region of impressive natural scenarios, tourist attractions, and ample opportunities for
sports in the Krkonose and Orlicke mountains
, a hilly region which has never been particularly wealthy, but which has remained pure and green. Prague-based aristocrats used to spend the summer here in the 17
th
and 18
th
centuries, far from the hustle and bustle of the city. The Jaromer Chateau, pervaded by music, could tell a lot about that time. In the 19
th
and 20
th
centuries, writers, painters, scientists and university professors used to come with their families to spend the summer holidays in the region of peace, beauty and comfort.
The district town of Pardubice is the natural provincial capital of Southeast Bohemia. Its role as the economic, administrative, cultural, and social center of the region was gradually established over time. The historic square and adjacent streets, built at the beginning of the sixteenth century, prove Pardubice's former status as a noble residential town. Most of the old buildings were builted in the Baroque and Classical styles.