There are some useful tips for a look also around the North side of Prague. Northern Prague is not as attractive as the historical centre of Prague, but it can still offer some interesting places. Here we provide some tips for other tourist attractions of the Norht of Prague: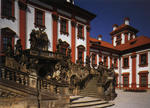 Troja Chateau
Access:
Metro 'C', Nadrazi Holesovice station, then take bus No. 112 to Zoo stop.
The Troja Chateau is situated on the right bank of the river Vltava, where the river turns northwards and slowly flows out of the city. Originally, a chateau was built here for occasional stays by its owner Vaclav Vojtech, Count of Sternberg.
It was then generously given to Emperor Leopold I as a place of rest after hunts in the Stromovka royal enclosure. The building was constructed and the garden landscaped in 1679-1685 after a design by J. B. Mathey in the style of Italian suburban villas. It is recommended to approach the chateau from the river from where the gradation of architectural elements can best be appreciated. The two-flight staircase with sculptures of the Gods fighting with the Titans leads towards the entrance to the main hall on the first floor.
The interiors of the chateau are decorated with wall and ceiling paintings by Italian and Dutch artists. Behind the chateau are the original outbuildings currently used as a restaurant, and above them a part of the former vineyard with the chapel of St. Clare. Gardens in French style, fountains decorated with the motifs of the Naiads and Tritons on a shell, rock gardens with running water, terracotta vases, an orangery and a maze are all an integral part of the composition.
The whole complex, including a summer open-air theatre, is enclosed by a wall with parts of it bearing illusionist paintings of the surrounding landscape.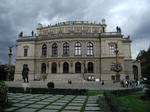 The chateau was reconstructed in the 1980s and is one of the masterpieces of Czech Baroque art, harmoniously blending architecture, garden and surrounding landscape. A part of the chateau has been used for lectures, concerts and theatre productions, and most of the interiors are used as exhibition space by the Gallery of the Municipality of Prague for its collections of 19th century Czech art as well as other expositions.
Open daily from April 1 except Mondays from 10:00 to 18:00.
ZOO
Prague 7, Troja, U Trojskeho zamku 3.
Access: Metro 'C', Nadrazi Holesovice station, then take bus No. 112 to Zoo stop.
The Zoo is annually visited by 750,000 people. Its facilities include a restaurant, refreshments, playgrounds, etc. The Zoo is also accessible by pleasure boats, from piers at the Palacky Bridge and Rudolfinum, stopping at Stromovka.
Open daily from 9:00 to 19:00 in summer and to 16:00 in winter.