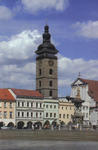 South Bohemia, a
unique region rich in architecture and culture
which for centuries has been administered in harmony with nature, is sure to surprise every visitor.
Sightseers will be impressed with how enlightened and rich must the local noble families have been, how talented their artist and craftsmen have been. They have left stunning for future generations, countless
number of historical monuments
which document the eventful and sundry history of this region: age-old towns full of life and culture, grand Gothic churches, dreamy Renaissance castles, medieval monasteries, unique folk architecture and beautiful pond systems.
The region has remained untouched by major modern industry, preserved until now in a condition very similar to the created by previous generations. The number of natural reservations established in the region can confirm the quality of landscape.
Southern Bohemia abounds in ponds, pine forests and large peat bogs, the countryside enlivened with silhouettes of towns and country churches that perfectly match the dazzling whiteness of farms. South Bohemia is dotted with fishponds and criss-crossed by innumerable canals where tench and, particularly, carp, the favourite Czech Christmas dish, have been bred for 500 years. This is typical South Bohemian landscape in the surroundings of Ceske Budejovice, Trebon or Veseli nad Luznici. You may also find rugged mountains such as Novohradske hory or Blansky les, north of Cesky Krumlov.
The country around Jindrichuv Hradec, deservedly called
"Czech Canada"
, boats its own beauty, thanks to unspoiled nature, numerous scattered granite blocks, high hills and large ponds. On the western sides of the districts of Cesky Krumlov and Prachatice begin the slopes of the majestic Sumava Mountains. On a northern border of the region is the picturesque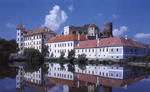 district of Pisek, with the basin of the Vltava (Moldau) and Otava rivers, and the Tabor district which fascinating Hussite period altered the history of not only the Czech kingdom but all Europe. The existing border between Southern Bohemia and Austrian splits a land whose past had been for ages associated with a single aristocratic family and the same power interests.
Southern Bohemia known locally as
"the country of a thousand lakes"
is one of the most scenic parts of the Czech Republic. It is a place of hidden lakes, deep woods, ancient castles, beautiful chateaux and villages. The historically important Hussite town of Tabor, a fortified gothic city, is one of the main points of interest, as is the chateau of Hluboka and the gothic castle of Zvikov, high on a cliff above the Vltava river. No one interested in the Great Schism and the roots of modern Protestantism should pass up the opportunity to explore this, one of the most important battlegrounds between papal authority and reformist zeal of the 15
th
century. The countryside, itself, is a place where one can easily get pleasantly lost as "the Good Soldier Svejk", in the book of that name, as well as Jaroslav Hasek, its author, did.