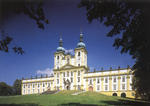 The hilly region around the upper of the river Morava, between the Jeseniky and Moravskoslezske Beskydy mountain ranges, is more melancholic and harsher then the neighboring, fertile flatland of Hana. Fulnek, lipnik and Prerov are all places linked with the name of John Amos Comenius and the Unity of Brethren, but then there is Olomouc, the ancient provincial capital and a town with almost 500 years of a Jesuit, and recently revived, university traditions, with deeply-rooted Moravian Catholicism wielding an influence on many aspects of life here.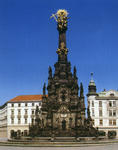 The colorful Vsetinsko and the very original Valassko, once inhabited by colonists from a far-away principality on the Danube river in Romania, who left a lasting imprint on life in the Beskydy mountains, all belong to North Moravia.
The open-air Wallachian Museum in Roznov pod Radhostem
, which began to be constructed as early as 1925, is a true gem of folk architecture, in perfect harmony with the natural environment.
The city of Olomouc - the fifth largest city in the Czech Republic lies in the centre of Moravia. Olomouc became the natural centre of an area known for centuries as the Hana region. The centre of Olomouc is surrounded by a ring of colourful parks and the remains of medieval city walls.
It was proclaimed a protected reservation area by the state a number of years ago. The ancient town centre is being restored sensitively with special attention on its unique character. New palace facades, Baroque fountains and columns and quiet romantic lanes have been returned to their original glory.