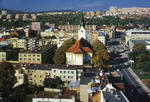 South-East Moravia is kown for wine and sunshine. The towns of the Zlin region have much in common, but are still so varied they just can't be thrown together into one "basket", if only because the region is located at the meeting point of three ethnographic regions: Wallachia, Moravian, Slovakia, and Hana. The South-East Moravia is formed from the picturesque Moravskoslezsky Beskydy mountains and the Vsetin peaks. The region of Wallachia gets its name from the shep, herds - Wallachs - who settled in the 12
th
century. With the joining of the mountain shepherds and the farmers, who settled in the valleys and mountains of this region, came some exceptionally charming national traditions, and started the establishment of the impressive traditional architecture in the form of wooden buildings, which even now are a part of the
strong folklore tradition
.
South-East Moravia a land of rich history, architectural treasures, folk traditions, pleasant climate, great wine and hospitality. The mild weather and southern slopes exposed to the sun provide rich crops of delicious grapes. From Riesling grown around Mikulov and Palava Hills, Frankovka around Velke Pavlovice to Znojmo's renowned Sauvignon variety, viniculture is to Moravia as hops and brewing are to Bohemia.
No one knows for sure when the first vine was cultivated in this area - perhaps in Roman times. But it was the beginning of a tradition which still prospers today. The rich and fertile land has attracted many people from mammoth hunters,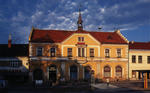 Celts, Romans, Germans to Slavs. The mixture of cultures and influences translates into the richness of monuments from different eras. The land reached the peak of its importance during the time of
the Great Moravian Empire
, linked to the settlement of Slavs and the arrival of Christianity in the 9
th
century, when its actual size stretched well beyond its present-day borders. The beauty of this land inspired generations of writers, musicians, painters and local artisans.
What brings the towns together is the location along the river valleys, surrounded by hills: the Vizovicke Hills, the Hostyn Highlands, and the mountains of the White Carpathians. From here it's just a little way to the Chriby Hills and the Moravia-Silesia Beskyds Mountains. Hiking and bicycles routes continue comfortably onwards to the towns of neighboring regions.
Today the thinking and activity of the region's residents are united to bring back to life all of the wonderful places, which rightfully attract the attention of tourists from both home and abroad.
Zlin is the town in the middle of Wallachian hills. The town experienced its major development at the beginning of this century under
Tomas Bata
. His family shoe-firm, inspired by Henry Ford's mass production, soon became a world leading shoe producer and brought fast growth to the town. This development has also reflected in the town's architecture. The buildings are of functionalistic style, with the repetition of simple cubic forms of non-plastered brick, glass, steel and concrete set in green.
The architecture is protected by UNESCO
.
Very close to Zlin, accessible by public transport, lies Lesna.. The chateau placed here conceals valuable wood carving, and panelling of walls and ceilings in the interior.