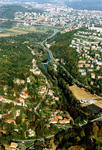 South Moravia, is an assorted mosaic of fields, forests, meadows, vineyards, rivers and ponds, winding river valleys, sharp cliffs and a gentle outline of fertile lowlands, enchanting in the noon day sun heat as well as in the bewitching soft twilight. No matter which one of the cardinal points entices you and whether you cruise through this country by foot or by bicycle, awaiting you is a magical time. The rhythm of the changing seasons what's more gives every place a stamp of uniqueness.
In spring you can head for the swamp forest around the confluence of the Moravia and Dyje rivers, or to the awaking beech and horn beam forests in the Chriby mountain range with imposing rock formations.
In summer take a walk on the ridge of Palava,
a UNESCO Biospheric Reservation
, and admire its white limestone cliffs, or stroll through Podyji National Park with its Austrian counterpart Thayatal National Park, where the winding Dyje river makes its way through deep canyons. In autumn you can dedicate your time to the White Carpathians National Parks, another UNESCO Biospheric Reservation, local orchid meadows when they are shedding their blossoms or to the fire coloured leaves of the trees in the Zdanicky forest.
And in winter? In the beautiful cool stalactite caves of the Moravian Karst and when cruising on the icy cold waters of the subterranean river Punkva you won't even notice that the frost and snow also hits South Moravia.
When wandering through the urban preservation areas in Brno, in Znojmo, Mikulov or Ivancice, you will soon discover, why South Moravia managed to win the hearts of its many visitors. Peaceful arcades, romantic nooks, a labyrinth of roads and tiny streets, the pastel colours of antique palaces, the thin towers of town halls, mediaeval stone town walls and not forgetting all the quaint coffee shops and wine bars, beckoning you to sit down, with all of that it is almost impossible to resist. Do you fancy glorious interiors and an atmosphere of times long past? Then waiting just for you are the Baroque chateaux in Slavkov u Brna and in Milotice, Renaissance chateau in Bucovice with its typical arcades, or the chateau in Lysice with sheltered garden colonnade. When you get tired from all that overload of experience, you can have a rest in the green flowering silence of the chateau park in Buchlovice or on the look out terraces of the stately
Baroque chateau in Vranov nad Dyji
. And if you prefer picturesque rural architecture, nothing is more simple than just to head South, to the wine-growing areas or to Moravian Slovakia, where many villages have retained their unique character of their magical past up to the present day.
Even though South Moravia is only a tiny dot on the world map of wine-growing areas, it made its mark on the varied international market thanks to its outstanding and high quality wine with many years of tradition. The charm of local kinds is due firstly to their diversity and full taste - and so as an example St. Lawrence wine from one vineyard has a rose scent, from the next vineyard a scent of dried plums and from the next a scent of strawberry. One of the local specialities is a young halffermented wine, which is not quite ready and has a yellow misty colour, which tastes sweet and goes quickly to the head. Its time is short and sometimes doesn't last for more than a few hours, and so you have to have a bit of luck to come at the right time. The delicious beverage is a blessing for this region. Inseparable from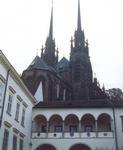 it are
the typical wine cellars
with historical vaulted ceilings and decorative entrances, enticing one to come in and taste what was yielded last year or what was maturing for the last few years - it makes no difference if it is Veltlin, Andre or Rulandske, which is a Moravian name for Burgundy wine. When sitting in the wine cellar you will definitely also be offered the regional gastronomy specialities - pigfeast delicacy, traditional feast cakes, wonderful fruit, roast duck or famous Znojmo gherkins. And we mustn't forget about slivovice, a strong scented alcohol made from ripe plums growing on the Moravian hills.
A region, which is a ring surrounding Brno, thanks to its wealth of nature, abundance of forests and variety of landscape, is a popular place for relaxation and recreation. Visitors become enticed not only by active relaxation in the romantic environment, but also by many architectural monuments and cultural events.