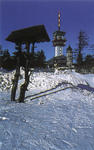 Krusne Hory is the longest mountain range in Bohemia (130 km). Extensive forest cover with abundant peat bogs on the upper parts gives a specific, gloomy character to the whole area. The relief of the country offers a number of opportunities for
downhill and cross-country skiing
fans. The hills and ridges of Krusne Hory are mostly covered with coniferous woods and mountain meadows, while the top peat bogs are covered with marsh pines. Natural spruce woods are spoiled very much by emissions from foothill coal basins, it is intensively worked on their recovery now.
There are several wildlife reserves in this area, e.g. Domaslavice Valley, Jezerka (special rocks, moufflons), Bozi Dar Peatbog (mountain "Spicak" - the highest basalt hill in Europe, 1 115 m - is a part of this area), Novy Dvur Peatbog (with its 230 hectares is the largest and best-preserved area with lakes and growths of marsh pines), Velke a Male jerabi jezero ( Great and Small Crane Lakes), Peatbog Soos (bog volcano's) and a number of protected natural formations, for example the rock Bocska Skala (column disintegration of basalt), the rock Semnicka Skala (where you can still find eagle-owls), the rocks Svatosske Skaly and others. Krusne Hory offers good opportunities for walking and trekking.
From the spa centre in Jachymov the visitor can walk to the bottom station of the cableway which will take him to Klinovec, the highest mountain in the Krusne Hory mountains. Klinovec offers a wide range of downhill ski runs for beginners and skilled athletes alike, it is also the starting point for cross-country runs. The viewing tower has been open since 1884 and in good weather it offers a lovely view of the entire Czech - German border area. 5 km from Jachymov is Bozi Dar (God's Gift), another popular winter sports centre, the highest located town in Bohemia, a medieval mining town with unique architecture. Another popular place in the skiing season is the basalt mountain of Plesivec.
The relief of the country offers a number of opportunities for downhill and cross-country skiing fans. The ridge is easily accessible by many communications, climbing up to relatively considerable heights so ski fans can comfortably use their own public transport direct to the heart of
the ski slopes
. Several ski centres have originated within the mountain range. In particular the best-equipped area is Klinovec-Bozi Dar with Jachymov in the west. It has many downhill race courses of various levels of difficulty available, downhill courses, ski-jumps for both competitors and the public and a biathlon centre, the scene of regular international sport events. Other centres are of rather local importance. In the west there is for example Abertamy with Plesivec and Pernink, in the central part of Moldava with Nove Mesto, Bournak and Mikulov,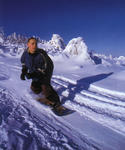 and in the east the mountain range Zadni Telnice and Adolfov.
Skiing areal - Neklid
Ski-tow: 8
Downhill: 8(4,1km)
Cross country track: 22 km
Tourist routes: 48 km
Skiing areal - Bournak
Ski-tow: 8
Downhill: 10 km
Cross country track: 40 km
Tourist routes: 62 km