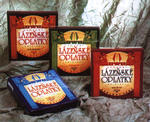 Among other famous products of Karlovy Vary like Becherovka or glass wonders peoduced by Moser you should taste delicious spa waffles.
The year 1856 marks the first appearance of
round spa wafers
. This unique taste, aroma and crispiness have earned them innumerable supporters.
You can choose from five sorts. They are sold in the both special shops in the neighbourhood of the Sprudel Colonnade.