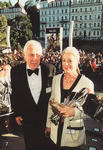 The Karlovy Vary International Film Festival has been classified by FIAPF as a "non-specialized festival with a feature film competition" (category A). In fulfilling its basic role the festival has become a place where film lovers and filmmakers can meet and where everyone can enjoy high quality films made during the past year from around the world. Because of its success in the past few years the Karlovy Vary festival has become the most significant film event in Central and Eastern Europe.
The Past
The Karlovy Vary film festival is one of the oldest in the world. The pre-war dream of many enthusiastic filmmakers materialized in 1946 when in Marianske lazne and Karlovy Vary a non-competition festival of films from seven countries took place. Above all it was intended to screen the results of the recently nationalized Czechoslovak film industry. After the first two years the festival moved permanently to Karlovy Vary.
For several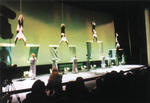 decades after the Communist takeover in February 1948 the festival was entirely under the control of the then current political establishment. The period in which the selection of films, the conferral of awards, and the invitation of guests took place in the spirit of Communist propaganda alternated with other less restrictive eras such as the sixties in which the festival program was able to offer the latest artistic trends making their way in both Czechoslovak and world cinematography (including the West). Legendary festivals filled with stars and absolute gems of films gave way to other years which, due to the bombastic and ubiquitous socialist rhetoric, nearly caused the complete loss of the festival audience.
The Present
With regard to the Karlovy Vary IFF, the great social and political changes that took place after November 1989 pushed concerns about organizing the festival to the background. The program for 1990 was saved by the release of a collection of Czechoslovak films which had been locked up for years in a storage vault. And the appearance of a number of important international guests such as Milos Forman and Lindsey Anderson helped as well. Future festivals were in doubt. Financial problems and a lack of interest on the part of the government, organizers and viewers almost ended the festival's long tradition in 1992.