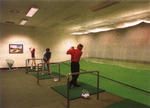 Golf Resort Karlovy Vary, a.s.
Prazska 125, 360 01 Karlovy Vary
phone/fax: +420-17-333 1101, 1001 - 2
E-mail:
golfkv@mbox.vol.cz
Sports oriented visitors of Karlovy Vary will find quite a few places to go too: the racing grounds, tennis courts, an open air swimming pool with thermal water, a sports shooting range, a winter sports stadium, well-kept forest paths for walking and jogging, bicycle paths, sandstone cliffs for mountaineering, a dam lake for water sports in Brezova, area for gliding and aerobatics and one of the best Golf courses in the Czech Republic.
Golf Club Karlovy Vary was established in 1904 by a "Gentleman's Fencing Club", who wanted to increase the offer for the spa guests. So it established a 9 hole golf course among afforested hillsides in the beautiful valley of the river Tepla,with a length of 2300 m.
The popularity and the number of players grew quickly. The golf course was often crowded, therefore was decided in 1928 to build new 18 hole golf course. Karlovy Vary's borough council was well-disposed towards constructing a new and modern course. They asked Mr. F. Gross from Inter - Club Country in Vienna and his friends to find the most convenient ground in the surrounding of the town Karlovy Vary. They resolved to construct the new golf course near to the village called Olsova Vrata on the field which is situated next to the motorway in the direction of Prague. The construction's plans were committed to the French architect C. Noskowski, the most famous designer at that time. Noskowski's work was a piece of art, the golf course was not overpowered till today.
After 1948 the economic of the spa treatment changed, the life style of the communist spa modified too. The golf course in Olsova Vrata became desolated. Persons interested in golf decreased. Social regime did not want to support this sport. Fortunately, there was a group of enthusiasts, who did not want to let golf in Karlovy Vary disappear. They started to work on the course on their own.
It took more than 5 years, then the hard work of these volunteers was appreciated. They save the big historical value of the Karlsbad's golf course to today's golfers.