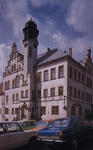 In the relatively preserved part of Krusne Hory Mountains lies
Jachymov, a spa
wedged between forests and famous for the original uniqueness of a treatment based on
radioactive springs
. Jachymov was founded in 1516. At that time the last Czech silver mines were opened here and the Joachymstaller - the Jachymov tolar, whose name still lives in the US dollar, was struck in the local mint. The town flourished twenty years later when it was the second most populated town in Bohemia after Prague.
From the 1840's uranium ore was processed in Jachymov for the manufacture of dyes and varnishes. It was in the waste products from these dyes that the Curies discovered polonium and radium. In the 1950's Jachymov became a vast concentration camp in which political prisoners mined uranium ore in extremely difficult conditions. The last
uranium ore mine
was closed in 1964.
The first curative spring was opened in 1864 in
the Svornost pit
. The first provisional Jachymov spa was in operation already at the end of the 19
th
century. Since 1906 two groups of other springs have been tapped which has contributed to Jachymov's entry into the family of world spas. Modern therapeutical methods which are today used in Jachymov, such as baths in thermal water with a big radon content, greatly contribute towards improving the health state of people suffering from disorders of the motor tract (rheumatism), of the nervous system and disorders of the metabolism.
The spa area is situated in the southern part of the town. Of the architecturally significant buildings let us mention the Church of St. Joachim, built in the years 1534 - 1540, the late Gothic town hall, the hospice church of All Saints, the Baroque Chapel of St. John and the Royal Mint.