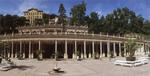 Karlovy Vary, a significant spa and tourist centre, is located in the picturesque valley of the small river of Tepla. The town was founded in 1358 by Emperor Charles IV. during whose reign the medieval Czech State flourished. Legend has it that
Charles IV. discovered the local warm springs during a stag hunt
. In 1370 the town was awarded the Royal prerogatives.
The development of Karlovy Vary continued in the 15
th
and 16
th
centuries. In 1522 the physician Vaclav Payer published the first medical description of the springs. At the end of the 16
th
century there existed some 200 spa houses into whose cellar baths warm spa water was brought by wooden troughs. Floods and fires became disastrous for the spa - the great fire of 1604 almost destroyed it.
A new upsurge of the town was recorded in the 17
th
century and continued in the 18
th
and 19
th
centuries. The visitors spread the fame of the town, contributed to its construction and left permanent monuments to their visit. Karlovy Vary was visited by royalty, (August I., Petr I., Charles VI.), by Czech, German, Russian and Polish nobility, and there was an influx of outstanding cultural figures, of them most notably Beethoven, Schiller, Goethe, Chateaubriand, Chopin, Wagner.
To the year 1912 Karlovy Vary experienced a period of prosperity. Proof to this are large monumental buildings and the splendid architecture from the second half of the 19
th
century which imprints on the town a uniform character and unique charm still admired by today's visitors (the Mill Colonnade, the Market Colonnade, the Imperial Bath and other spa houses, the building of the theatre, Grand Hotel Pupp, the Greek orthodox and Anglican churches).
Karlovy Vary has
12 curative springs
with a temperature ranging from 42°-72°C. The hottest spring is the Vridlo which is also the oldest and which jets to a great height on Spring Colonnade (Vridelni kolonada).
Visitors from over 60 countries come to Karlovy Vary regularly for health and relaxation, and to experience the culture. In the spas, 3,950 beds are available, and in total there are 6,377 beds available in Karlovy Vary.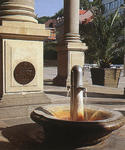 The extraordinary therapeutic effects of the springs result from
the high concentration of 32-35 liberated minerals
, namely trace elements and carbon dioxide. Karlovy Vary is known for the treatment of disorders of the metabolism and gastric diseases and also other diseases. The treatment consists of drinking therapy, baths, packs and other spa procedures, active movement and the effect of the spa environment.
Mineral Spring:
Vridlo - The Hot Spring 73,0°C
Pramen Karla VI. - The Charles VI. Spring 63,8°C
Dolni zamecky pramen - The Lower Castle Spring 64,0°C
Horni zamecky pramen - The Upper Castle Spring
Trzni pramen - The Market Spring 61,6°C
Mlynsky pramen - The Mill Spring 52,7°C
Rusalcin pramen - The Nymph Spring 60,1°C
Pramen knizete Vaclava I., II. - The Prince Vaclav Spring I.: 63,7°C, II.: 60,4°C
Libusin pramen - Libuse Spring 59,6°C
Skalni pramen - The Rock Spring 54,5°C
Pramen svobody - The Freedom Spring 59,0°C
Sadovy pramen - The Park Spring 39,6°C
Pramen Stepanka - The Spring Stephanie 10,0°C