KARLOVARKARLOVARSKA BECHEROVKA A.S., T.G.Masaryka 57, 360 76 Karlovy Vary
Tel.: 017/32232 31-5, Fax: 017/32294 21, TELEX: 156206
E-mail:
BECHER@vol.cz
One of the most famous products of Karlovy Vary is the world known herb liqueur Becherovka (traditional Becher liquer is produced from 100 herbs). BECHEROVKA is a speciality liqueur produced solely and only from medicinal herb extracts macerated in spirit using original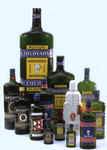 Karlovy Vary water and barrels made from oak which are placed in cellars at a natural temperature. Every day their own laboratories check the chemical results of the macerating processes and the results of the maturing in barrels.
Chance seems to stand at the head of many great historical events. One such piece of luck brought the Imperial Count Plettenberg-Mietingen on a visit to Karlovy Vary in 1805, bringing with him an eccentric English doctor by the name of Frobrig. It must have been coincidence that the count and his personal physician Frobrig put up at the House of the Three Skylarks, which, by another piece of fortune, belonged to our Josef Becher, Karlovy-Vary pharmacist.
Becher and the easily bored Dr Frobig soon became close friends united by a common passion: inventing blends of herbs, aromatic oils, and alcohol. Taking his leave of Karlovy Vary a while later, Dr Frobig gave his companion a piece of paper. "This preoccupied me somewhat",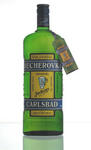 said the Englishman with the cool composure his fellow countrymen are famous for, before disappearing from Josef Becher's sight for all eternity.
There was an inkling of something truly inspired in Frobrig's blend of herbs and alcohol, and over the next two years Josef Becher went on to spend all his spare moments experimenting with the secret recipe. Then, in 1807, Josef Becher started selling cordial drops at his pharmacy according to his own recipe. Initially, his liqueur bore the names Carlsbad English Bitter, Carlsbad Bitter, English Bitter, and even the German name Original Karlsbader Becherbitter. In short, Karlovy Vary Becherovka had seen the light of the world.
Becherovka is here for you:
As a complement to your digestive routine and its regular and healthy functioning.
As a plesant and effective aperitif before meals and digestive after meals.
As a pleasurably bitter "long drink" for any opportunity during the day.
As a base for many delicious cocktails, especially aperitifs like Be-Ton.
BE - TON prepared directly in the glass
INGREDIENTS:
4-5 ice cubes
5 cl BECHEROVKA
10 cl Tonic water
1 cl lemon juice a squeeze of orange peel for aroma