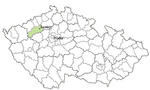 The oldest written mention of a village with the name of Louny dates from the 11
th
century. The village was located by a fort on the Ohre River. That original location is today in the town's Zatecky suburb and is occupied by
the Church of St. Peter
, which has retained its current look since the 15
th
century.
The area around Louny gradually became royal property. In the middle of the 13
th
century, the Premyslid Kings established a royal town in Ostrozno nad Ohri, which was near the original village. Louny had an strategic position on one of the main routes from Prague to Saxony. At the same time, the town was located in the extremely fertile Ohre River basin, which was and still is a reason for the town's agriculturally-oriented economy. During medieval times, the Louny area produced mainly wine, hops, grain, and fruit.
Louny played a major role in Czech history during the time of the Hussite Wars (1419-38). The city army fought on the Hussite side in the majority of its successful battles.
In the 16
th
century the city experienced a large boom. During that period, vast construction projects were undertaken in the Renaissance style, but unfortunately, few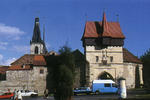 of the buildings remain. One of the most beautiful architectural monuments from that time is the Church of St. Nicholas, which was built from 1519-1538 by
the factory of Bendict Rejt
.
Today, Louny is home to approximately 20,000 people, who are for the most part employed in large, local factories (the railway repairs and machineworks, Elektroporcelan, Praga, meat-processing, the dairy, and the brewery). The most popular hobby of Louny's inhabitants is gardening, which has a long tradition in the city. The ecological situation in Louny is gradually improving, resulting in part from desulfurization processes in thermal power plants. Also, there are future plans to build a by-pass to alter the route that now passes exactly through the center of the city.
For tourists, we recommend seeing the sixteenth-century chateau and the Church of St. Jacob the Greater (dated 1715) in Citoliby. The main altar of the latter is decorated by sculptures of M. B. Braun. Another interesting site is the
chateau in Peruc
, which contains sculptures by I. F. Platzer and paintings by Emil Filla, who once lived there. We also recommend visiting Slavetin and its
Church of St. Jacob
the Greater, which was originally built in the Roman style in the 13
th
century. Part of its sanctuary was added in 1317 and its tower was built in 1837. The interior is decorated with wall paintings dating from 1385 and depicting themes connected with the Christ and the Madonna.