At the end of the 1890's Prince Adolf Josef Schwarzenberg wondered what to do with the old brewery in farm Touzetin. The problem was the brewery was not near common trade routes. He finally decided to build a new brewery on his own property - farm Vrsovice near to the railway station in Louny.
From those times
the Louny brewery is a typical representative of Czech beer school
. If you are planning your stay in the Cesky Kras region, don't forget to taste some Louny beers.
Louny Lager is pale gold in color, possesses a modest head, and on the palate has a slightly grainy texture. Louny sports a mild citrus flavor, a mild grain note, and finishes with a nice, but not crazy high, hops crispness.
It's quite good, and I would guess that a great many of those American weaned on mass-produced domestic beers would enjoy this beer. It's better than them, but not so exotic as to strike their tongues as strange.
Louny Dark Lager is a light to medium bodied beer that is fair brown. It has a grainy texture and the caramel they've added gives it a nice sweetness that is balanced with a crisp finish.
As it warms to room temperature, this Louny Dark Lager's flavor grows bolder but remains tasty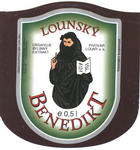 Louny Desitka - Silver Label (pale; alc.: 4,0 %; available in 500ml bottles and in kegs)
Louny Desitka - Dark Label (dark; alc.: 3,9 %; available in 500ml bottles and in kegs)
Louny Premium - Gold Label (pale lager; alc.: 5,1 %; available in 330ml and 500ml bottles and in kegs)
Louny Premium - Black Label (dark lager; alc.: 5,0 %; available in 500ml bottles and in kegs)
Louny Diamant (pale, without sugar; alc.: 3,8 %; available only in 500ml bottles)
Louny Classic - Standard Label (pale; alc.: 3,5 %; available only in 500ml bottles)
Louny Classic - Weekend Label (pale; alc.: 3,5 %; available only in 1,5l PET bottles)
Louny - Traditional Label (pale lager; alc.: 4,7 %; available in 500ml bottles and in kegs)