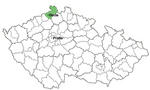 Cruising the Elbe from the German border upstream you suddenly get into one of
Europe's largest canyons
. Steep walls rise up to 300 m high along both sides. Unlike the famous canyons of the Rockies, the crests are clad with dense forests spreading dozens of miles west and east across a countryside with unusually sparse population for Europe. Some 15 kilometres further, the canyon walls open to field place for the quay-side of Decin, a town considered a romantic and attractive gate to Bohemia, with a chateau on the left bank overlooking the Shepherd's Wall on the right. The chateau had long been an important northern base of the Czech sovereings.
The first Premyslide fortified settlement
was rebuilt to a 13
th
century stone castle which then became the administrative centre of the Decin Demesne. The strategic importance had not diminished till the 18
th
century. The present face dates back to the end of the 18
th
century vast renovation. Everybody's attention is immediately arrested by the unusual baroque access road called "the Long Ride" which is confined within high walls along all of its length and shut between gates at each end. Adjacent to the northern side is the Rose Garden, a modestly sized but beautiful park centred around the 1678 salla terrena designed by G. Bragaglio. Architectural sights in and around Decin are a pleasure for everybody's eye. The Holy Rood Church in Krizova Street not far from
the chateau is a replica of Rome's St. Peter's Cathedral
and was built between 1687-1691. The baroque Church of St. Wenceslas and St. Blazej (built 1754-58 by architect J. W. Kosch) is in the 28. Rijna Street where a Gothic house was destroyed by fire. The 1730 opened St. Wences las's Church is found in the Ustecka Street. Its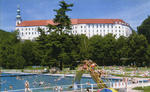 architect was the famous K. I. Dientzenhofer himself. The centre of Podmokly in the left-bank Decin is a gem of Art-Nouveau urbanism; the museum, former hunting-lodge, houses Czechia's only exhibition of navigation. The two churches, one catholic despite its location in a street called for Hus, the Protestant reformer, the other evangelic, in Teplicka Street, are younger but no less interesting for their architecture. The synagogue is a bit farther toward the Shepherd's Wall. The stone bridge spanning the Ploucnice river was built in 1564-69 and adorned with sculpture works of
the famous baroque artist M. J. Brokof (1714)
. It is worth seeing like the Sheep Bridge, an unusual construction work across the Jilovsky brook from 1620. To round off the selection of technical rarities, let's mention Bohemia's first chain-suspended foot-bridge installed in 1831.
Numerous clubs, hotels, restaurants in various styles, cafes and confectio neries, shops and sports facilities, including bowling, make everybody more comfortable while visiting Decin.
The zoo
is situated on the Shepherd's Wall's crest with an outdoor swimming-pool just across the Elbe-which justifies our daring conclusion that there is no time to be bored while at Decin.