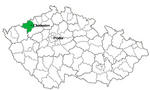 The Chomutov District spreads along the German border in northwestern Bohemia. Known rather as a region of industry and agriculture for the last few decades, it is interesting through seldom types of countryside only scarcely found elsewhere in Czechia. The district's western and south-western parts climb up the eastern slopes of the Doupovské Hory, a heavily eroded, but still the biggest extinct volcano in the country. The north is occupied by the north-east- bound ridges of the Ore Mountains. Viewed from a distance of several miles, they look like a massive, rocky wall which flattens into a pleasant plateau slightly inclining towards Germany. As if split up with a mighty cleaver stroke, the two formations are divided by the deep canyon of the Ohre river. The Ohre leaves the canyon east of Kadan for a flat lowland of the North-Bohemian Brown Coal District, only now and then cut by brooks and rivulets running down the Ore Mountains. The stream of the Ohre and the morphology of the mountains have predestined human migration routes and settlements of the Celts, Germans, and Slaves, from the prehistoric times down to our era. But the real immigration was boosted only by the medieval boom of mining which gave rise to several
mining cities in the Ore Mountains
(Hora Sv. Sebestiana, Sumperk, Medenec, Prisecnice, etc.) Alum was exploited and dressed at
Jirkov
, Kundratice, and some other piedmont places. The boom of manufacturing which evolved into industrial revolution, gave birth to some not quite usual productions (manufacturing of china, processing of cork, production of ball bearings, seamless tubes, etc.) and networked the area, including the hilly Ore Mountains, with railway tracks. The district's presentday face bears the features of the coal mining boom and power generation, mainly in the lowlands. Tourists and sportsmen of all tastes, fishers, lovers of castles, chateaus and architecture, museum-goers, hobby archaeologists, botanists, geologists, huntsmen, even the mushroom pickers, who are coming back in the last few years, will not be bored here. Canoeists and lovers of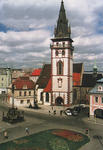 other water sports know the Ohre's upper stream and have recently invaded the waters of the Nechanicka prehrada dam to enjoy yachting. Another natural water sports facility is the area around
the lake of Kamencove jezero
in Chomutov.
Chomutov was built on the site of an old Slavic settlement on the Uzka river. The town was originally owned by the Vitkovci family who bequeathed it to the Order of German Knights in 1252.
Since the beginning of the 15
th
century, Chomutov has been considered a royal town despite being under the protection of the feudal owners of the manor until 1604. The most important proof of the historical development of the town is the church of St. Catherine, with the seat of the order, which was rebuilt once as a castle, and later as a town hall. Other important sites include
the Jesuit area of the monastery
, Jesuit Gymnazium, and the church of St. Ignatius. Many middle-class houses document historical developments in architecture from the 15
th
to the 20
th
centuries. An important step for the growth of the town was the development of railroads in the 19
th
century which, since 1870, transformed Chomutov into an important traffic intersection. Due to widespread reconstruction at the end of the 19
th
century, and the loss of many houses as a result of World War II, the town has few historical landmarks.
The town plan includes a rectangular center marketplace, evidence of the old trade route. The medieval character was disturbed by the construction of the Jesuit area and church in the Baroque period. The outskirts of the city, rebuilt in the 19
th
century, were left almost completely without historical remains after construction implemented in the 1970's.
The purpose of the proposed historical landmark area in Chomutov is to preserve the architecture and cultural values of the town center, and at the same time to make possible its revitalization.
Town visitors can see many historical landmarks, of which we recommend the church of the Assumption of the Virgin Mary, the church of St. Ignatius, the hospital church of the Holy Spirit, and a former
chateau with its church of St. Catherine
.