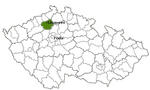 At the confluence of the Labe (Elbe) and Ohre Rivers, in the picturesque
Ceske Stredohori
region, lies Litomerice, one of the oldest and most beautiful towns in the Czech Republic. The surrounding countryside is often referred to as the
"Garden of Bohemia"
, and the same name is used for an annual fair held in Litomerice. Currently the city is home to about 26,000 people.
Litomerice's history as a city started between 1219 and 1228, but the first Slavic villages appeared here in the eighth century. Proof of the establishment of the Chapter of St. Stephen's Church in 1057 is found in the original Charter for the Litomerice Chapter. In 1325, the city was awarded a "mileage right," which guaranteed it a trade monopoly lying roughly within the surrounding 11 kilometers. The city was granted a number of other privileges and rights, because the nobility were keen to expand the prosperity of the city. Due to the fact that Litomerice was an unsuitable stronghold against invaders entering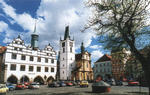 Bohemia through the Ceske Stredohori region, Emperor Josef II. decided in 1780 to establish another fortress closer to Prague, called
Terezin
(after his mother).
Litomerice's wealth of popular monuments gained it Historical Landmark Status. In 1057, Duke Spytihnev established the Chapter of St. Stephen's Church, originally built in the Roman style and later transformed to Gothic. During 1662-63, the original church was destroyed and today's cathedral was erected on the site.
One interesting feature of the city is the square, which at 1.8 hectares, is one of the largest squares in Bohemia. It received its shape after 1228, during the rule of King Premysl Otakar II and all the houses on the square were known to once possess arches.
Underneath the city is a large network of interconnected cellars, some of which have up to three stories. Some of the longest underground corridors in Bohemia may be found here, and the one accessible at the Radnicni Cellar (no. 21/13 on the square) measures 366 meters.
Upon entering the city, one certainly notices
the city walls
. The original wall system was built in the Gothic style under the rule of King Charles IV. During subsequent centuries, this original style was altered and so the original Gothic buildings remain only in part - the framework rooms, the burial vaults, and the door entrances.
The tourist has access to several remaining monuments of various styles and to collections in museums, galleries, and chateaux. This is supplemented by the beautiful Ceske Stredohori landscape, which contains a number of castles. All of Litomerice, Ustek, and Terezin were made Historical Landmarks, as was the town center of Roudnice nad Labem. The total
number of Historical Landmarks
registered in this district exceeds 1,000.