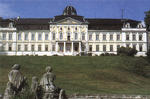 In the northern part of the region of Hlucinsko (15 km from Ostrava) is situated the village of Silherovice. The village is known as an area of the second best golf course in the Czech Republic used by Ostrava citizens. The golf course is located in
the chateau park
.
Chateau Silherovice is not very interesting in comparison to such jewels as Hradec nad Moravici, but the chateau park is
the pearl of English parks
in the Czech Republic.
The countryside surrounding Ostrava is quite extraordinary, the Beskydy and Jeseniky Ranges are popular recreation areas and the golf course near to Silherovice in the chateau's park is considered to be one of the most attractive in Europe.
At the northern edge of the city, in the immediate vicinity of the Polish border, lies the chateu of Silherovice, the former summer residence of Rothschilds, with a beautiful landscape park and a
well-kept 18-hole golf course
.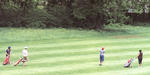 Park GC Ostrava Founder idea establish golf club in Ostrava area been ing. Jan Cieslar, that myself along with golf acquaint during his therapeutic abode in Marian baths. More until 10 years myself have in mind construct golf course also on Ostrava area - after finding in mountains Beskydy and in neighbourhood Ostrava set finally choice on castle park in Silherovice. Golf club, whom dominant is Rotschilds castle, be placed in castle grounds with much very distinct old trees imports here at all world.