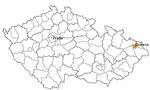 The area around contemporary Ostrava has been an age-old entrance to the Moravian Gate region, which lies on the traditional route connecting the Baltic and Mediterranean Seas. The region first began to be
settled
intensively
in the 13th century
, with initial mention of
Silesian Ostrava
coming
in 1229
, and of
Moravian Ostrava, in 1267
. The Landek Hill was settled by mammoth hunters, who were the first people in the world to use coal from local, to the present day exposed coal seams, to maintain their fireplaces 30 thousand years ago.
In the middle of the last century, there was rapid development of the
coal mining, metallurgical, machinery and chemical industries
, all due to the discovery of coal fields in 1763.
Vitkovice, Inc.
, a company now famous throughout the world, is the descendant of the original Rudolph Metallurgical Works that were founded in the neighboring village of Vitkovice in 1828.
The city is accessible from several directions both via road communications as well as via railway network. The city's connection with the main
railway route
between Vienna and Krakow in 1847 joined Ostrava with the rest of the world.
Air transportation
to and from the region has been provided since 1959 thanks to the International Mosnov Airport.
Today Ostrava has a
population of 335,000
, is comprised of 33 formerly independent villages, and continually demonstrates its status of administrative, commercial, industrial, and social leader in the region.
In the city itself, there are opportunities to visit a
number of important cultural sites and monuments
, among them
the Jiri Myron Theatre
from 1894,
the Antonin Dvorak Theatre
from 1907,
House of Arts
,
Art Gallery
with extensive collections, established in 1926,
the Old Town Hall
(from the 16
th
century),
the Basilica of the Divine Savior
(built in 1889 and today the second-largest church in Moravia for 4.000 people),
the Church of St. Wenceslas
(an edifice of three naves originally built in the Gothic style on a Romanesque foundation and later reconstructed in 1805 in the Baroque style), and
the plague column of the Virgin Mary
(dating from 1702 and the longest-maintained Baroque statue).
We also recommend that visitors see the sixteenth-century wooden
Church of St. Catherine in Hrabova
from the 16
th
century and its significant, single-nave folk construction that evidences the high art and craftsmanship of its constructors. Also worth seeing in Silesian Ostrava are
the ruins of the 13th century fortress
. A
Mining Museum
was opened in 1993 in the former Anselm mine of Petrkovice, where the visitor can view information on the development of the Ostrava - Karvina District, from the original 19
th
century mine galleries to the most current mining technology.
The area of Ostrava has a number of large
recreational areas
with indoor and outdoor swimming pools, tennis courts, and in
Silherovice
, a beautiful,
world-class golf course
situated on the grounds of the castle park. Of the monuments outside the city, we should at least mention
Hukvaldy Castle
and the village underneath where the famous composer Leos Janacek was born. In his memory, the annual
International Janacek's May Music Festival
is held in Ostrava. The Open Air
Museum of Folk Architecture
in nearby Roznov pod Radhostem is also worth seeing.
Music events in Ostrava:
Ostrava Days
- summer Institute for Composers and Performers
Colours of Ostrava
- festival of dance music