Silherovice, 747 15 okr. Opava
The golf course is located 15 km from the centre of Ostrava. From Ostrava, take roads 58 and 466 via Ludgerovice and Markvartovice to the grounds of Silherovice castle.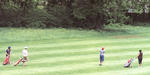 Holes: 18
Par: 71
SSS: 70
Lenght: 5 809 m
Season: April - October
The club was founded at the same time as the course, which was projected by Jan Cieslar in 1968. Part funded by NHKG Ostrava, the cource officially opened in 1970. The golf cource is dominated by the Rothschild castle and set it in its grounds which features many rare old trees brought to the park from all comers of the world.
The club and the 18-holes course were founded in 1968 and the first official tournament had been held in 1970. Since that time the course has been the venue not only of tens local tournaments per year but also of many championships and professional tournaments.
The course is situated in the Silherovice's manor park with many rare trees and other valuable sceneries. There are practising, boarding and lodging facilities available in the nearest surroundings.
Nowadays, the club itself has some700 members and belongs to the "Big Five" in Czech golf.
Round fee:
Monday - Friday: 1100,- KCZ/round
Saturday, Sunday, Holidays: 900,- KCZ/round
Youngsters under 18 years: 50 % of full round fee Seniors (Monday to Friday) 50 % of full round fee
Week fee: 3500,- KCZ
Handicap 36 or "green card" required. Starting time reservation in the reception
Phone: +420-69-5054144
Others fees:
Set of clubs: 500,- KCZ
Trolley: 100,- KCZ
Drivning-range balls: 1- KCZ/ball