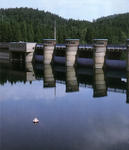 Two ancient mining towns Budisov nad Budisovkou and Vitkov are starting points of walks to the Kruzberk Dam - the largest man-made water reservoir in the region. The Kruzberk dam is a
paradise for water sports
lovers. The dam is very long and quite narrow - therefore it is perfect for yachting and windsurfing. Many campsites around the dam offer good quality bathing and camping. Kruzberk dam is located on the river Moravice in not very hilly landscape. Deep forest around the dam with
many rocks creates
a typical romantic mood.
Enclosing the Moravice River near Kruzberk, the dam was the first waterworks to appear in the Odra basin between 1948 and 1955. Designed to convert the river's energy into electric power at first and intended to supply Ostrava's industry with water, it finally became drinking water resource. Following the recent completion of the Slezska Harta dam a few miles upstream, Kruzberk has become member of a cascade whose part is to supply the water works at Podhradi with raw water of specified quantity and quality, to control water levels on the Moravice, Opava and Odra rivers, to improve
water animal life
environment and to allow the industry use river water. The dam also has two auxiliary power stations. Very important is the cascade's capacity to suppress the 100-year flood level from 257 m/s
3
to 50 m/s
3
.
Some 92 700 m
3
large, the gravity concrete dam sits on bedrock composed of
calm slate, greywacke and pudding stone
. The bedrock was sealed by injecting a single grout curtain that reaches as deep as 25-30 m. Sensors that monitor dam block deformations and movements, drain brothel efficiency, ingress of water into the corridors inside the dam etc. were installed in the body of the dam and into the bed below to guarantee the dam's service safety.
The artificial lake also has a 19.6 m high Rockville dam on the right hand side Lobnik tributary to catch up silt deposits.
Limited access zones were marked out to protect water quality.