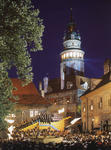 The picturesque town of Cesky Krumlov is situated on the banks of the meandering upper part of the Vltava River in south Bohemia. It flourished particularly under
the Lords of Rozmberk (1302-1602)
who made Cesky Krumlov the centre of their large estate. At that time, the town stood at a junction of roads connecting Bohemia with Austria, Bavaria and northern Italy. It was from Italy that the Renaissance style arrived in Cesky Krumlov, enriching the appearance of the Gothic town and chateau. The close of the 17
th
century brought more in the way of cultural enrichment when the Eggenberg family had the Baroque theatre built and the chateau garden beautifully landscaped. Under the Schwarzenbergs, Cesky Krumlov put on a Baroque dress. Cesky Krumlov, however, offers much more than its three hundred historic buildings
those are a testimony to an eventful past and combine to make up an impressive whole. It is a centre of cultural and congress tourism with the International Music Festival, the Renaissance Music Festival, and theatrical productions in
the chateau garden
some of the highlights in this respect.
The list of cultural events includes activities organised at the chateau, the museum,
the Egon Schiele Centre
, the Ceramic Design Agency, and many private art galleries.
The festival of the five-leaved rose, which, suddenly, in the middle of summer, takes the town back several centuries, is yet another event quite out of the ordinary. The festival is in fact a spectacle in which hundreds of people, many of them
dressed in historic costumes
, take part with the town becoming one large stage.
Program of
the City Renaissance Festival represents the atmosphere
of the most flourishing period of town development under the rule of the last Rosenbergs. For three full days you might meet noble ladies and lords as well as knights, jugglers, musicians, theatrical artists or venerable middle class, merchants and artisans. You can choose from the rich programs, amuse yourself in various ways or rest your tired body in some of Krumlov's pubs.