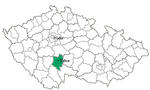 The southern Bohemia city of Tabor is best known both here and abroad as a city directly connected with an
important chapter in European history - Hussitism.
But the history of the city dates back to the 13
th
century, at the time of the reign of Premysl Otakar II., at the same time that the town of Hradiste was coming into being on a plateau bordered by the river Luznici and the Tismenicky stream. In 1420, the Hussites erected a fortified military encampment here. From there, the Hussites, under the leadership of Jan Zizka and Prokop Holy, set out on their victorious crusades. Following the defeat of the Hussites in the battle at Lipany, the Taborites forged a peace with emperor Sigismond, and in 1437, Tabor was named a royal town.
Over the centuries, the architecture of Tabor has gone through many changes. Today, thanks to its many well-preserved historical landmarks, the historical center has been declared an urban landmark preservation. The most visited landmarks include the Late Gothic Town Hall, where there is a "Hussites" exhibition and
the Tabor Hussite Gallery of the Creative Arts
. The Town Hall also features an entrance into a historical 800 meter long underground sight-seeing circuit through the extensive cellars of the town's original buildings.
On the dominating Zizkov Square, standing on Tabor Hill, you will find the deanery of the Metamorphosis of the Lord. The heart of the church is in the Gothic style, and Baroque and Renaissance features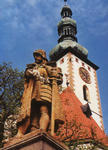 appeared over time as the building was periodically altered. Visitors can wind up pleasant strolls through the winding streets by climbing Kotnov, the sole tower that remains of the original castle, and enjoying not only a fine view of the historical town but also of the not too distant Baroque cathedral in Klokoty - a well known destination for pilgrims. As a result of the effort to revive the historical traditions of Tabor, many cultural and social events are organized in the town.
The international Tabor Meeting festival
, which is held in the third week of September each year, has already become a tradition here. Once a year, the center of Tabor is transformed into a medieval town, complete with hawkers, artisans, and jousting. The unique atmosphere is underlined by a gala procession through the town featuring a Hussite retinue led by its captain, Jan Zizka.
There are well preserved examples of
Gothic and Renaissance buildings
- town halls, churches, fortifications, etc. - in all of the other towns in the Tabor region. The castles of Borotin, Dobronice, Pribenice, Choustnik, and Selmberk, along with buildings erected by religious orders, such as the monastery in Bechyne, and the deaneries in Sobeslav and Bechyne, are all unique reminders of their times. Also worth seeing are the Baroque buildings of secular and religious backgrounds - for example, the the pilgrims' church in Klokoty, the Augustinian monastery in Tabor, or the folk architecture of the villages - especially the area in the southern region - the so-called Sobeslav moorlands.