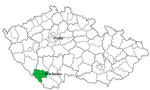 In the district of Prachatice the more typical flat South Bohemian landscape rises up towards the heights of the Sumava Mountains. While the vicinity of Prachatice, in the northeaster part of the district, is still very much typical of the region's flat landscape, the rest of the district, west of Vimperk, including the area around Volary, is rather mountainous.
The historic centre of Prachatice is a preserved historical town area - with a number of Renaissance houses, well-preserved fortifications, and the Pisecka gate. A remarkable ecclesiastical monument is
the Gothic St. Jacob's church
. Approximately 5 km from Prachatice rises the mountain of Libin (1,096 m above sea level) with a look-out tower. Not far from Prachatice you can also visit:
the Renaissance chateau of Kratochvile
which hosts a permanent exhibition of cartoon films; the castle in Vimperk; and the small town of Volary with its well-preserved timbered houses in the Alpine style. Historic buildings in the peasant Baroque style, typical for most of South Bohemia, can be encountered in the eastern "South Bohemian" part of the district, around Netolice and Lhenice.
The regional town of Prachatice spreads itself in a hollow below the majestic Libin Hill (elevation 1096 meters), and is surrounded on all sides by beautiful pine and mixed forests. The oldest written record of this settlement dates from the year 1130, and its historical importance was closely connected with an important medieval trade route known as
"The Golden Path"
, which passed through the original settlement.
In 1323, at the bidding of John of Luxembourg, Prachatice was awarded the privileges of a city. However, the time of the Hussite wars, which brought significant damage to Prachatice, saw the end of prosperity for the municipality.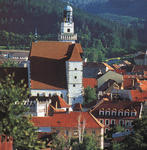 Prachatice did not flourish until the 16
th
century, when it became the property of the famous and
powerful House of Rozmberk
, which at that time governed a major part of today's southern Bohemia.
In the town's modern history, its important and famous personalities include a priest named Jan Nepomuk Neumann. In his later life Neumann held the position of Bishop in Philadelphia, and in 1977 he was canonized.
More than 11,500 people reside in Prachatice today. In 1981 the city was proclaimed a historical preservation site. Through this proclamation it became possible to keep the historically invaluable center of the town, and reconstruction of the new town did not occur within the medieval city ramparts.
Prachatice today offers visitors an indoor swimming pool and other sports facilities. The level of quality of the restaurant and lodging facilities corresponds with increased tourism. Currently, the Parkan Hotel, Park Hotel, Kralovska Restaurant, and the towns most recently opened restaurant and Wine cellar, Bastion, should be listed among the best locations in the city.