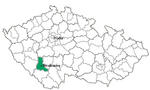 Strakonice is nestled in the picturesque South Bohemian landscape, at the confluence of the Volynka River and the Otava River. Its location in the Sumava foothills is stressed by Kuridlo and Podsrp hills, as well as Kani Hill, along with
the cascade of Repice and Blatsky ponds
, between which Strakonice lies.
Development of the town dates from the second half of the 12
th
century, when the noble family of the Bavors founded the fortress in early Gothic style. Bavor I gave part of the fortress to the Johannite knightly order, named after St. John the Baptist. The knights inhabited the castle for 700 years, until 1925. In the 13
th
century,
the Roman Gothic Church of St. Prokop
and its cloister were built, followed by the Rumpal Tower, with its pear-shaped ground plan. Today the tower provides a scenic view to visitors, but in the past it was a prison tower. The wall paintings in the cloister and the chapter hall date from the first half of the 14
th
century. At that time, the medieval tradition of distributing honey porridge to poor people began, and is memorialized by a stone table at the castle court.
Bavor IV. conferred city privileges upon Strakonice in 1367. In 1421, the castle became the seat of the priorates, who initiated the building of the Renaissance Jelenka Tower. The tower was used as a dining place after hunts, and today it is the site of art exhibitions and musical concerts during Strakonicka Nokturna.
Today in the castle, one can find the exhibitions of the Museum of the Central Vltava Basin, which includes replicas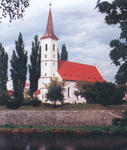 of Gothic statues such as
the Strakonice Madonna
and the Strakonice Pieta, as well as an exposition of the history of bagpipes. Strakonice is known as the city of bagpipers due to the local legend about Svanda the Bagpiper, who was the subject of a play by Josef Kajetan Tyl, "The Strakonice Bagpiper". The tradition is also memorialized by the international bagpipers' festival held biannually since 1992.
Other sites worth a visit include the Baroque plague monument, which is located in the middle of Palacky Square; the Renaissance Church of St. Margaret, reconstructed in Baroque style in the 18
th
century; and
the Gothic cemetery church of St. Wenceslas
from the 13
th
century, also reconstructed in Baroque style in the 18
th
century.
Strakonice today is primarily an industrial city. The Jewish businessman Volf Furth employed many stocking makers, and in 1812 he received permission to make fezes. Thus, in 1828 the city's first factory began operation. Today the shareholding company Fezko is known around the world. The Czech Weapon Company was established in 1990 and it made the city famous for production of handguns and motorcycles.