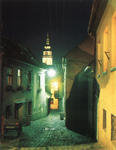 In Trebic there used to be a very strong jewish community. Nowadays there are two synagogues (front and back) and
an old jewish cemetery
.
The
"Front synagogue"
was built in the years 1639-42. In the year 1757 had to be lowered, because it was higher than other houses - it bothered prince Emanuel Filibert, earl of Valdstejn, the owner of the manor.
The 'Back synagogue' is placed in the middle of the former jewish ghetto. It was built in 1837. From World War I. it wasn't used for religious purposes, but as a store. In the year 1987-8 started a renewal project. Today the synagogue is used for exhibitions, concerts, seminars etc.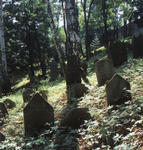 Most of jewish communities had their own cemetary. In the past they had to have permission from the local establishment. That is the reason why jewish cemeteries are mostly located out of town, or in humiliating places like near a scaffold. Jews from Trebic had their cemetery near the wall of
a Benedictine monastery
, but it was demolished by Hungarian soldiers in 1468 or by order from the owners of the land - the Valdstejns. A new cemetery was built in the middle of the 17
th
century out of the town near to Hradek nad Tynskym potokem. About 11000 people are buried here in over 3000 graves.
Trebic's ancient Jewish Town includes two synagogues on the left bank of the Jihlava River and an extensive Jewish cemetary in use since the early 17
th
century. These make up
a unique monument
to one of the many Jewish communities which once flourished in Moravia. In the cemetery one can see Renaissance and
Baroque-style gravestones
.