The 13
th
century merchant settlement was established on a trade route called Haberska. Founded by Smol of Lichtenburk, an outstanding nobleman of the Premysl Otakar II. times, the settlement grew up into a rich centre of silver exploitation hidden in the forest-clad mountainous countryside upon the Sazava River.
The influx of German miners gave it the name of Nemecky Brod in 1310 to last for se veral centuries. The advantageous position where the routes crossed gave the city a monopoly for goods imports in the Bohemian-Moravian Uplands. Brod lived on trade, crafts and agriculture and soon acquired important freedoms which equalled to those of the royal cities. Brod became a sort of supreme court for the surrounding towns of Chotebor, Lipnice, Svetla and Ledec nad Sazavou. King George of Podebrady was the first to understand how suitable a place Nemecky Brod was for meetings between the leading politicians, generals and noblemen. Brod made itself a name in other areas, too.
In 1735 the Latin school of Carolina opened here to be replaced by the grammar school later where many outstanding personalities started their education: Josef Dobrovsky, Jan Vaclav Stamic, Karel Havlicek Borovsky, Fridrich Smetana, Jan Zrzavy and many more. Brod experienced periods of wealth and war inflicted poverty. In spite of raging wars, plagues and fires,
over 100 historic and cultural monuments
have survived in Brod till date. The town centre has been proclaimed a national treasure in the late 1980's. Walls and bastions, the centre with ravishing Baroque square, rich churches, the Triton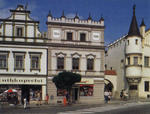 Fountain, the symbol of betrayal on the new town hall tower, one of Bohemia's high valued bells - all of this are witnesses to the rich past. The Havlicek Memorial is one of the town's most important ones because the town has always stuck to the rebellious disposition combined with common sense which has shown in hard times.
During World War II. the town confirmed its traditional spirit by replacing the attribute Nemecky with Havlickuv in its name. Today, Havlickuv Brod develops its rich traditions. Since 1850 it has been the seat of the district executive authority, court and tax office. New buildings for municipal and higher administrative authorities were established, like the district hospital and grammar school. Brod used to have a printing shop and many clubs of arts (Jason) and sports (Sokol), some of which still exist. A lot was always happening in terms of culture. The local amateur theatre invited Prague actors to stage
the first scenic version of Hasek's Schwejk
in 1922.
The town supported exhibition of academic painters and promoted the installation of Masaryk Memorial made by Jan Stursa. Neither the rapidly changing politics nor other kinds of interference could derail this course of life.
Havlickuv Brod has a population of 25,000 today and several big traditional employers like Pleas,
the Rebel Brewery
, mill, bakery, milk plant, and a few new ones, like Plastimat, Zetor, Motorpal., Rico, etc. The fire shly repaired grammar schools and new hospital area, new housing, a swimming-pool, a sports area, and the old folks' home in preparation are what prosperity means for its citizens where it has never been easy to grow rich.
Cultural life, too, receives support, like painter exhibitions, museum exhibitions, book fair. Havlickuv Brod has partnerships with several foreign towns - Brielle, the Netherlands (since 1985), Brixen, Italy (since 1992), Spisska Nova Ves, Slovakia (since 1995).