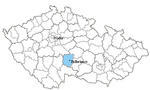 The district of Pelhrimov is the North-Eastern outpost of South Bohemia. It includes the main dividing line between the catchment areas of the North and Black Seas, and it used to host the former border between Bohemia and Moravia. Most of the district territory is comprised of the Bohemoravian Highlands (Ceskomoravska vrchovina), whose hills reach an altitude of 700 - 800 m above sea level. Owing to this the area is thus suitable for hiking and walking, both in summer and winter; one of the highest mountains is Kremesnik (765 m), south-east of the district centre of Pelhrimov). Pelhrimov has recently become more known due to its Museum of Records and Curiosities (registering records in unusual sporting disciplines and collecting odd items). Pelhrimov castle, originally a Renaissance building and later turned into a town hall, now hosts the District Museum of Natural History. In the town square and adjoining streets you can find medieval and Baroque houses, and the remains of the town fortifications. The town of Humpolec, founded back in the mid-12
th
century, is sure to awaken your interest by its
historical monuments of Jewish culture
, and a museum with rich ethnographic collections. The town of Pacov is known as the founding place of
the International Motorcycle Federation
(FIM); this tradition is continued by the newly established museum of motorcycles at the nearby castle of Kamen.
The original community, which dated back to the 12
th
century, arose where Stary Pelhrimov is located today, and later, its name was moved to designate the community surrounding the church of St. Vitus, a community that was plundered by Vitek of Hluboka in 1289. In the aftermath of that year, a new town was established, featuring a regular layout that is reflected to this very day in the center.
During to the pre-Hussite period, the town was a marketing center for the surrounding area, and many crafts sprang up there. Under the Hussites, the town was administered by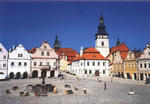 Taborite captains as early as 1422. Following the battle of Lipany, the town fell under the rule of Mikulas Trcka, of Lipa, and in 1550, the Rican lordship of Ricany became the new administration. In 1596, the town acquired royal status. The 16
th
century ushered in new phase of building development, and this construction remains visible today in the town gates and the remnants of fortifications. In the inner part of the town, stone structures predominated, and after the great fire of 1766, Baroque style repairs altered the appearance of the buildings. In the 19
th
century, the town's industries underwent development, supported by the opening of the railroad in December 1888. Today, Pelhrimov is an administrative and cultural center.
The state castle, Kamen, which was established in the 13
th
century, is the site most visited by tourists in Pelhrimov. The castle has three halls that are open to the public, in one of which there is a unique
exhibition of single track motorized vehicles
. Not far from Humpolec, another town in the Pelhrimov district, one can see the ruins of the Orlik castle. Cervena Recice is dominated by a castle, whose rich grafitto decorations attract visitors from far and wide.
Kremesnik, which is heavily visited, is located at the highest elevation in the Pelhrimov district. From the top of the hill, the Stations of the Cross lead down to a little chapel, where there is a mildly radioactive spring with healing effects. Besides the hotel at the top of the Kremesnik Hill, there is the Vetrny castle,
the romantic summer seat of Josef Sejnost
, a well known medal maker. A curiosity of this destination of pilgrims is its lookout tower, at an elevation of 810 meters above sea level, which makes it possible to see great distances into the surroundings, occasionally across all of Bohemia, all the way to the Krkonose mountains.