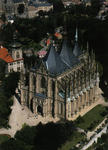 The town of Kutna Hora is a picturesque medieval town situated some 60km east of Prague. The source of all the splendour and wealth of the town was silver ore extracted once in this region. The history of Kutna Hora silver mines reached its climax in 14
th
and 15
th
centuries, when Kutna Hora was one of the richest places in Europe, where silver was found and extracted. The town became the cultural, political and economic centre of Bohemia, competing, as for its importance, even with Prague. The dominant and boast of Kutna Hora is its St. Barbara's Cathedral. Besides other interior decorations there are also medieval frescoes depicting the secular life of medieval mining town of Kutna Hora inside the Cathedral. There is a monumental early baroque building of
the Jesuit College adjoining St. Barbara's Cathedral
and attracting our attention by its filigree reticulated Gothic supporting system. You can see other remarkable buildings there, for example the building of "Hradek" (the Little Castle), now a museum housing exhibitions showing the history of silver mining and the origin of financing in the Czech Lands. As a part of the exhibition tour you may visit one of the medieval silver mines. Another interesting sight to be seen in the town of Kutna Hora is the Italian Court, once the Mint of the Czech State and
the Royal Residence of our kings of Bohemia
. At present this building houses a very interesting exhibition of Kutna Hora minting called
"The Royal Mint"
and a steady exhibition called
"The World of Czech Coins and Medals"
.
In addition to the above-mentioned sights, Kutna Hora can offer its visitors the historical atmosphere of a medieval town - thanks to its patrician houses, narrow lanes and irregular- shaped squares.
The Gothic Stone Fountain
, the Arch-Deanery Church of St. Jacob, the beautiful Gothic Stone House and the baroque Ursuline Convent are also ranked among the top architectonic jewels. A lot of interesting things are hidden in the Kutna Hora underground. Besides the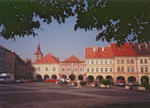 above-mentioned medieval silver mines, there are also several floors of subterranear vaults under some patrician houses. At present visitors to Kutna Hora may spend some pleasant moments sitting in restaurants and wine cellars, which have been opened in these vaulted cellars. The municipal part called Sedlec also offers some remarkable architectonic beauties. It is the place where the history of the town of Kutna Hora started in. A large area of
the Cistercian Monastery
and the monumental baroque Cathedral of Our Lady has remained there until these days. In the vicinity of Sedlec there is the Church of All Saints located together with the well-known and attractive Ossuary (the Bone House). The rich interior decorations were made exclusively of human bones originating from the historical period of the Thirty-Year War.
A lot of cultural events are organised in the town of Kutna Hora. These events offer their visitors unusual and extraordinary experiences. The major events organised in the town are for example various organ and singing concerts held in St. Barbara's Cathedral, opera and theatre performances held in July on the courtyard of the Italian Court. Chamber concerts, usually held in the atmosphere of historical patrician houses, have their own charm and spell. During the holiday season Kutna Hora offers its visitors different folk and rock music festivals. At the end of June the town gets enriched by colours of historical costumes and by the hustle and bustle of a medieval fair usually held within the ranks of
the Royal Silver Festival of Kutna Hora
, i.e. a folk festival commemorating the arrival of the king to Kutna Hora. At the end of September the town organises St. Wenceslas festival, which reminds us of folk customs, habits and performances of the past periods. And all of this is roofed by the most important European-scale cultural event held once every two years - The Internation al Biennial Guitar Interpretation Competition Kutna Hora.
In 1995 the town of Kutna Hora was listed on the UNESCO World's Cultural Heritage List.