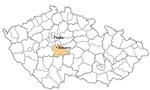 The Benesov district, by virtue of its area of 1,446 km
2
, accounts for the largest district in the Czech Republic. It is an interesting area from both naturalistic and touristic points of view. It lies between the Vltava and Sazava Rivers, at the central stretches of both. The terrain varies between plains and hills, wooded areas, and many lakes.
The Piarast monastic order, which focused on education, made the most significant contribution to the history of the town. They established
the Baroque monastery complex
, according to the design of the famous architect Alliprandi. For hundreds of years, they affected the development of science, art and general education. Visitors may familiarize themselves with the history of the town at the museum located in the center on Small Square. The historical quarter Na Karlove is adjacent to the center. The ruins of a Minorite monastery, the Gothic church of St. Nicholas, two bell towers and the Jewish cemetery can be found there.
The natural conditions of the district allow for extensive recreational activities, which are mainly focused on the areas of the Vltava basin and the Sazava basin. The south part of the district contains the natural area known as Blanik, with an area of 4,057 hectares. The district claims a total of 330 cultural monuments, which include Konopiste Castle with its vast park (225 hectares), Jemniste Castle and Cesky Sternberk Castle.
An important cultural and historical monument of the district is Konopiste Castle,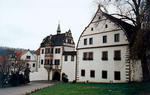 which was made famous and reconstructed to its present condition by the heir of the Austro-Hungarian throne Archduke
Franz Ferdinand d'Este
. The original fortress from the end of the 13
th
century was partially reconstructed in the 16
th
century. Further significant alterations were performed in the 18
th
century, when the new Baroque gate was built and the interior was newly equipped. Visitors are offered three sightseeing tours, with the option of seeing representative areas, the armory of the d'Estes, the castle chapel and the private rooms of the heir to the throne.
From April to the end of October, tourists may visit Cesky Sternberk, even though it has been returned to the Sternberk family. In the knight's hall, chapel and adjacent salons, the early Baroque stucco decor has been maintained. Visitors can admire romantic, historical interiors.
Jemniste Castle is an important Baroque construction in the area of the Benesov district. It was built between 1720 and 1725. The castle functions as a place of exposition of historical interiors, and modern art is displayed in the castle gallery. For groups of visitors, a program titled
"Baroque Festivals in Jemniste Castle"
is available.