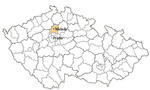 The district town of Melnik is undoubtedly the most important place in the surrounding area. Due to its location and history, it was predestined to be the leader of the district. Since the beginning of its history, it was part of the lives of many important Czech kings, queens, and other nobility because it was one of the country's oldest dowry towns, revenues of which belonged to the Czech queens. Melnik does not have its own charter, but was first mentioned in a document signed by King Premysl Otakar II. on November 25
th
, 1274, that granted the town a portion of revenues from trade on the Labe (Elbe) River. The city's role as a dowry town was confirmed after the death of the Premyslid kings, when it was embedded "de jure" in the Majestas Carolina code of King Charles IV., whose name is specifically related to the development of the wine industry in the town. Melnik's wine tradition, however, dates all the way back to the ninth century, when the town was governed by the
first Czech Duke Borivoj and his wife Ludmilla
(the latter a member of the local Psovan family).
Dominating the town are a chateau and the nearby Church of St. Peter and St. Paul, which together can be seen from all directions. The chateau exhibits a number of architectural styles, beginning with Roman, proceeding to Gothic (i.e., the gate and the Chapel of St. Ludmilla), and ending with Renaissance (i.e., arches, sgraffiti, and chimney cowls), the last of which gives the building its characteristic look. The chateau's first floor is the temporary location of the district museum, which has archaeological, ethnographic, Czech viticulture, and baby carriage exhibits.
The provost Church of St. Peter and Paul
, which is situated on the highest point in the city, is a stately monument with a history that begins in the Roman architectural period. Later it went through several stylistic transformations, from Gothic to Baroque. For tourists, a very attractive site is that of the ossuary located in the crypt under the sanctuary. Its present look was created by the anthropologist, Dr. Jindrich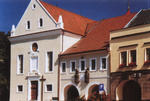 Matiegka.
Though the square of Melnik is famous for its characteristic arches, its main feature is the old-style city hall that dates from the 14
th
century. Other sights worth seeing are the sixteenth-century
Church of St. Ludmilla and the church park's wooden bell tower
, which was placed there at the end of the 1895 Czech-Slavic Exhibition. The only remaining signs of the former medieval fortress are the Prague Gate (dating from 1500), the water-tower, and the ruins of the city walls.
A few kilometers north of Melnik is the village of Libechov, which is sometimes called the "gate" to the Kokorin area. However, even the village has something nice to offer. A Baroque chateau, constructed in the 18
th
century, replaced an original late Gothic fortress. The chateau came into the possession of the noble Veith family in 1801. The family originally hired Vaclav Levy as a cook, but his sandstone sculptures ("Mary Magdalene," "The Harpist," "The Snake," and "Klacelka") now dot the area and are often the goal of touristic walks.
South of Melnik, past
Stephen's Bridge
(a technological monument dating from 1912), is the beautiful and historical village of Obristvi. It is famous due to Bedrich Smetana's frequent stays there at the Baroque Lamberk Estate, which belonged to the family of his second wife, Bettina. There is currently a museum in the building where he worked on his compositions "My Country" and "The Bartered Bride."
The poet Svatopluk Cech
also once worked in Obristvi. A reminder of his stay is a small, two-story room which the poet purchased at the Czech-Slavic Exhibition in 1895. Close to Obristvi lies Chlumin, which has a history dating from the 12
th
century, and a beautiful 18
th
century plague column.