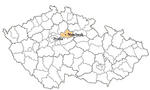 Nymburk is currently a regional town with a population of 15,500 that straddles the Elbe (Labe) River in the lowlands of Polabska, approximately 50 kilometers east of Prague.
The town of Nymburk was built on the foundations of an older, fortified settlement by a ford across the Elbe and on a trade route to Zitavy. The town was founded in the 13
th
century by the Czech king Premysl Otakar II., who moved a Dominican order here and invited German and Dutch colonists (who originally named the town Neumburg, of Novum Castrum in Latin, or New Castle in English). Soon after its founding, Nymburk became a strategic towns protecting Prague, which was the heart of the Czech kingdom. The town's importance grew further during the reign of Jan Lucembursky, who bestowed many privileges on the town. King Charles IV. also contributed to the development of the town's influence and wealth. This blossoming continued until the end of the 16
th
century. The Thirty Year War was the harbinger of a long decline for the town. The next stimulus for development did not come along until the construction of the railroad in 1870.
The valuable historical landmarks include
the Gothic Church of St. Giles
, which was erected between 1218 and 1380 as a triple-naved basilica, with a long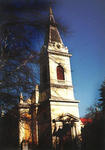 choir section, a municipal fortification made up of the remains of brick ramparts and a double moat, and a Gothic landmark, which is also the Chapel of St. John of Nepomuk and was built in the 13
th
century.
We can recommend many excursions for tourists to the surrounding area, during which they can visit Krinec, an early Baroque chateau and park dating back to 1649, Loucen, a 1704 Baroque chateau with a well-maintained English garden featuring an orangery, or a Baroque chateau of the second half of the 17
th
century in Lysa nad Labem, which is ornately decorated and features
statues designed by Braun
and placed in the chateau's park. In Prerov nad Labem there is an open-air museum with many ethnic buildings and
a Renaissance chateau
. Visitors to this region should not fail to visit the famous spa town of Podebrady, where, in addition to many other sights, they can visit a chateau that was originally a Gothic castle and was reconstructed in the Renaissance style in the middle of the 16
th
century.
In Libice nad Cidlinou, there is an archeological preserve on the site of a Slavic fortified settlement of the 10
th
and 11
th
centuries (Slavnikovska Libice) and a forested wildlife preserve (Libicky luh).