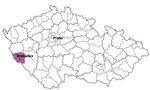 This district town is located in Western Bohemia, approximately 60 km from Plzen, and has a population of 11,500. There are three border crossing-points to Germany in proximity to the town: Folmova, Vseruby and Liskova. This westernmost royal town, which is famous for its long town square, houses with its picturesque arches and the two towers which dominate the skyline, belongs among
the most important Urban Historical Landmark
.
The oldest history of the city is related to its position as a customs village, which was established as early as the 10
th
century. Two important routes between Bohemia and Regensburg passed through this country. Along these paths, Chod villages sprung up, whose citizens were entrusted with guarding the safety of travellers on the routes.
The original market village was raised to city status by Premysl Otakar II. in the second half of the 13
th
century. The historical center of the city was comprised of two parallel streets, which were followed by town walls, a moat and fortifying mounds. The remains of the walls may still be seen near Branka. The tall, round watchtower served to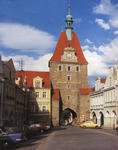 guard the city.
In 1341, the town brewery was established, and it still makes several varieties of beer. The city became rich, and was the seat of country congresses. In the 16
th
century, it was generously reconstructed. It was known for its association with a number of important humanists, and both trades and guilds developed.
From time immemorial, the city has attracted artists who were inspired by the history and beauty of the town.
The famous writers
Bozena Nemcova, Josef Kajetan Tyl, Jaroslav Vrchlicky, Matej Capek Chod, and the composer Jindrich Jindrich all lived here at some time.
Domazlice today offers visitors precious historical architecture. The most important monuments of the city are: the Dean's Church of the Birth of the Virgin Mary; the Lower Gate; the Augustinian monastery with the Church of Assumption of the Virgin Mary;
Chodsky Castle
; the cemetery chapel of St. John of Nepomuk and the Baroque Chapel of St. Lawrence on Vesela Hora.
The attraction of the Domazlice district is maintained by the special costumes still worn by the people of the district, the natural beauty of the bordering forests, and the mountain zone of the Czech Woods, whose highest mountain is Cerchov. Tourists are also attracted by
the festival of Chods
, which is held every year in August. The festival days are based on the famous tradition of Lawrence's pilgrimage. The city and surrounding area offer the possibility of year-round recreation and tourist walks, as well as swimming and saunas, which are accessible to the handicapped.