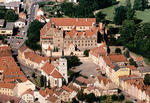 nam. Republiky 1, 346 01 Horsovsky Tyn, phone: 188/423 111, fax: 188/423 113
Formerly an episcopal castle was founded in the middle of the 13th century. The features of it are apparent only in interiors today; a Gothic chapel is the most valuable part. John Popel Lobkowitz, who was in favour with the king Ferdinand I. and holding important powers in the country, obtained this manor in the year 1535.
In 1547 there was a big fire in the town and the castle was damaged too. John had the remains of the castle rebuilt after the Renaissance style. The chateau in this form has remained until today. William, the son and heir of John Popel, was given a death sentence for his participation in the uprising against the king in 1618 and his property was confiscated. The earl Maxmilian of Trauttmansdorff an imperial diplomat bought the manor behind slight amount in 1623. The chateau was in the possesion of this house until the year 1945, when the state became its owner (according to President Benes' decrets).
For its enormous historical value, the whole complex was declared to be a National Cultural Monument in the year 1996. The chateau is one of the most accessible monuments in the Czech Republic today. It offers four visitor circles and the total time of the visit is more than four hours.
The first visitor circle, called "the Castle", shows the oldest part with the Gothic episcopal chapel and a Renaissance period way of living and an armoury. In the second circle, "the Chateau", we can learn about the living of nobility up to the beginning of the 20th century.
The circle "Kitchen" is subtitled "secret of a depository" and it is an interesting collection which cannot be usually shown in the interiors. The burgrave palace is a remarkable exposition. A visitor can admire splendidly furnished popular and citizen (burgess) interiors here.
Admission:
Castle: Adult: 30,- CZK
Children: 20,- CZK
Foreign Language Guide: 60,- CZK

Chateau: Adult: 40,- CZK
Children: 30,- CZK
Foreign Language Guide: 60,- CZK
Kitchen: Adult: 25,- CZK
Children: 15,- CZK
Foreign Language Guide: 60,- CZK

Opening hours:

| | | | |
| --- | --- | --- | --- |
| | April & October | June - August | May & September |
| Monday | close | close | close |
| Tuesday | close | 09:00 - 17:00 | 09:00 - 16:00 |
| Wednesday | close | 09:00 - 17:00 | 09:00 - 16:00 |
| Thursday | close | 09:00 - 17:00 | 09:00 - 16:00 |
| Friday | close | 09:00 - 17:00 | 09:00 - 16:00 |
| Saturday | 09:00 - 15:00 | 09:00 - 17:00 | 09:00 - 16:00 |
| Sunday | 09:00 - 15:00 | 09:00 - 17:00 | 09:00 - 16:00 |