Plzen is the fourth largest city in the Czech Republic and enjoys a dominant position in West Bohemia as its industrial, commercial, cultural and administrative centre.
The Brewery Museum
is one of the many attractions in the city situated in a brewery house with its own malthouse. The latter provided malt for the Civic Brewery in the city still in the 1860's. The museum traces the history of brewing in the city with exhibits from the brewing, malting, cooper's, innkeeper's and other trades.
You can also pay a visit to the underground cellars of Plzen dating from the 14
th
to the beginning of the 15
th
century. They were used for storing food as well as craft workshops. Archeological finds are on show here as well as items documenting the life of people in one of the foremost towns in medieval Bohemia.
The West Bohemian Gallery is housed in a newly-reconstructed
Gothic-Renaissance building with original cellars
. The collections of the gallery include Czech art from the Gothic period up to today and particularly a collection of the work of Czech artists from the 19
th
century and first half of the 20
th
century.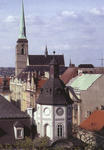 The West Bohemian Museum was founded in Plzen in the year 1878. The collections of the museum document the development of the countryside and society in West Bohemia and Europe, and its collections of antique and oriental art are of world significance. We must not forget the Diocese Museum. The Franciscan monastery with the Church of the Assumption is one of the largest buildings in the city. Its original Gothic appearance has been mostly preserved, although baroque adaptations were made in the 18
th
century by the well-known
builder J. Auguston
. The church contains a permanent exhibition of rare Gothic, Renaissance and baroque sculptures.
One of the dominant buildings in Plzen ever since 1894 has been
the Great Synagogue
. It has excellent acoustics, a unique organ and has floor heating.
The most dominant building in the city, however, is the Gothic Cathedral of St. Bartholomew with the highest church tower in Bohemia. From the tower there is a wonderful view of the city centre as well as the outlying districts of the city.
The city has the only Zoo which also has
botanical gardens
. Here you can see the Komodo dragon, the biggest lizard in the world. Komodo dragons are bred in only eight zoos in the world. Next to the zoo is the largest natural amphitheatre in Central Europe.