The fifth biggest city of the Czech Republic with the population of 101 000 is situated in
the valley between the Jizera Mountains
and the Jested Ridge. It is only 100 km far from Prague and it is easy to be reached on a motorway. It is considered to be economic, educational, cultural and political centre of a large region. The district capitol Liberec is a place with a wide range of economic branches, among them trade and industry prevail.
Machinery and textile industry belong among those with the longest tradition. The banks allow the development of economic potential of the city. There are branches of all major banks here. The industrial background relates closely to the structure of schools. Technical University of Liberec provides the resources of highly qualified experts.
It is no doubt that the industrial complex of Energomontaze Liberec, a. s. is a successful example of a built-in industrial plant into the city structure. It is only 1000 m far away from the very centre of the city. Therefore, maximum attention is paid to the effort not to interfere the environment by own operation.
The first written report about Liberec comes from 1352. In the past the region of Liberec belonged to the most developed areas of the Central Europe. From
the originally cotton and woollen centre Liberec
became an important industrial region with a textile and glass productions. After the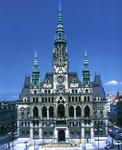 Second World War the region produced considerable proportion of total Czechoslovak industrial production output concentrated mainly on textile, machine engineering, electrotechnic productions and the production of plastic materials. In years 1970-1980, uranium extraction and processing were developed, however in 1990's it was reduced considerably. With private enterprise development after 1990 many enterprises mainly in the construction and trading sectors were established in Liberec. Liberec, as far as the number of registered companies per 1,000 people is concerned, is among the towns with the highest rate in the Czech Republic. The production of machinery and equipment, metal production, textile and plastic productions are among some of the main industrial sectors in Liberec. Final products of a few companies are components for a car production. Liberec is a town with a large base of a qualified labour trained in industrial production, with traditional research potential and developed structure of technical vocational and secondary schools and the Technical University. Liberec fascinates with a large scale of historical and cultural sights. The Neo-Renaissance town hall,
the Liberec Manor House
with the largest glass exhibition in Europe and imposing building of the F. X. Salda theatre rank among the most attractive ones.
Unique collections and exhibitions
can be seen in the Museum of Northern Bohemia and the District Art Gallery. Liberec is a centre for exhibitions and fairs of national importance. Liberec is a significant centre of sport and tourism.