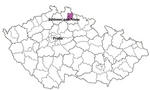 The town with the apple-scented name is situated some 100 kilometres from Prague and close to the local centre of Liberec. Though quite old - mentioned as early as 1356 - the small pleasant village was bound to wait many centuries for its D-day to come. Natural conditions, skills of local people, and international situation worked together to make the place become a world-famous producer of glass and jewellery in the last century. Jablonec nad Nisou awoke to the reality of a legendary place where the
"Jablonec stuff"
originated, was fabled of as
"Austrian California"
in the history books where folks grew rich overnight and their most daring dreams of multiplying their capital were coming true. The fifty years that followed the town status (granted to Jablonec nad Nisou in 1866) changed the town's face immensely. Population multiplied five times and many ostentatious houses shot from the ground to display the owners' wealth and the architects' faculties and art. Impressive buildings in the neo-Renaissance and Art-Nouveau styles, state and local administration offices, schools, tax offices and private villas of local merchants and exporters bear a testimony to the now faded glory of the town's golden period, being a virtual school of architecture at the same time. But it is not only the lovers of history and arts who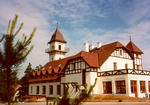 feel allured to come and see the place, because sport is another local attribute. A dam of crystal clear water is right in the town; then there are the large sports facilities at Strelnice (athletic hall plus the prime league FK Jablonec Nad Nisou football stadium) and another one at Brizky (near the cross- country skiing track); a swimming-pool; an artificial ski piste at the outskirts; an artificial ice-rink. Many parks in the town itself and the beautiful countryside around are the tourist's dream. Just select one of the many marked trails and enjoy far sights from numerous lookout towers. Culture is not the nature's poor relative here. Jablonec has several very good choruses (let us mention the Janacek Chorus whose name is the symbol of quality). Jablonec nad Nisou also has the Museum of Glass and Jewellery, the School of Applied Arts which specialises in jewellery, of course, and maintains a team of talented and enthusiastic teachers. Several outstanding graphic and plastic artists who live here are backing ambitious local art galleries. More projects keep appearing - regular exhibitions, concerts, contests, performances. People socialise more often and new traditions are being formed. The
"genius loci"
is budding out and thriving. The former town of glass that used to attract people eager for more knowledge and wealth is once again becoming a place that can give you experience to remember. You, too, have got the chance.